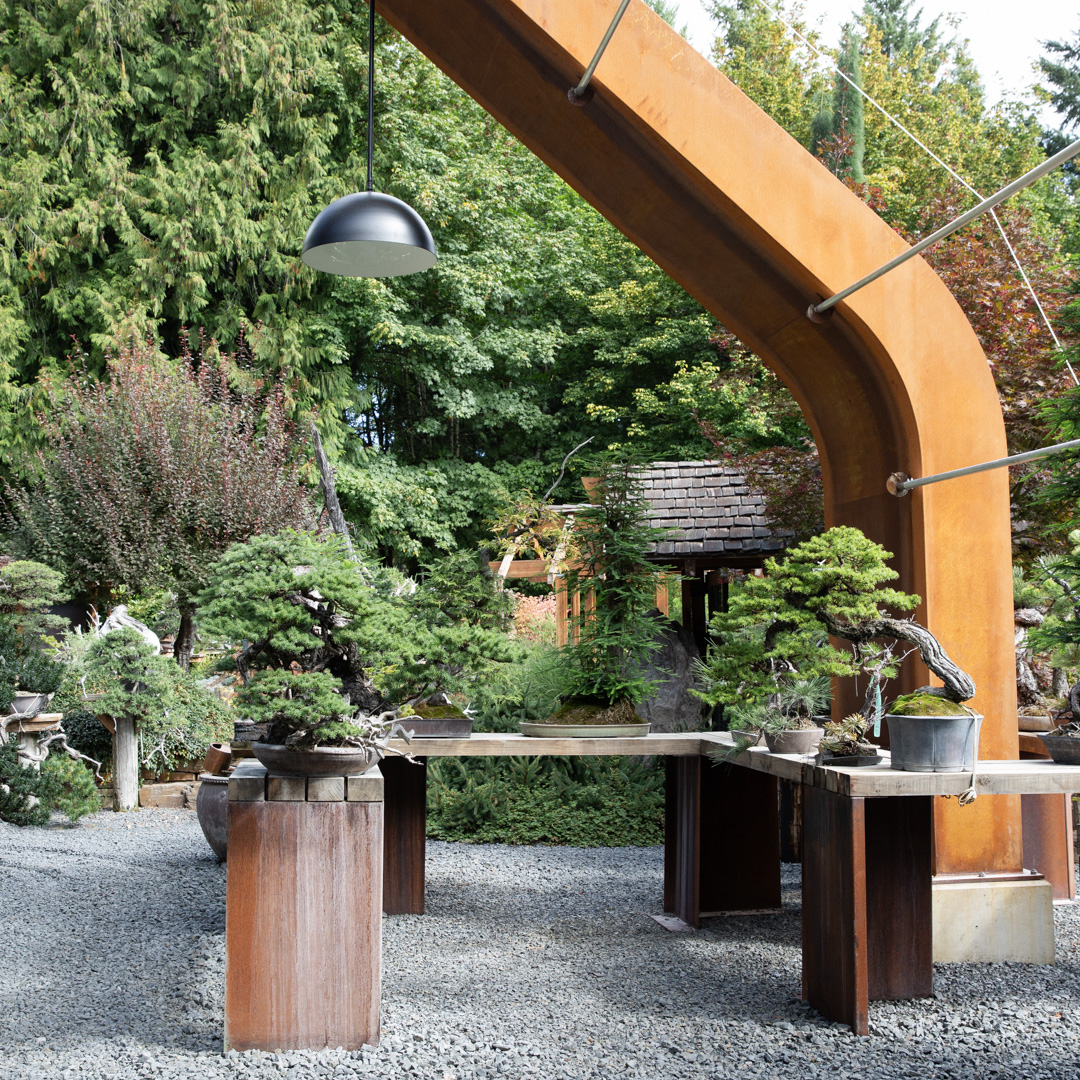 American-Made Lighting Illuminates a Bonsai Paradise
It is said that good things come to those who wait. And these things often come in small packages. You need look no further than a bonsai tree to see these old adages as truth. Bonsai is the art of growing trees and shrubs in small containers. With meticulous training and pruning, the plant is slowly shaped to give the appearance of a mature tree.
Out on the west coast in Warren, Oregon, artist and bonsai professional Ryan Neil created Mirai, a bonsai studio, garden, and creative ecosystem. Ryan and his team of botanical experts recently added a new greenhouse and outdoor lighting to the garden.
As they searched for appropriate fixtures for the space, the team looked for American-made fixtures that were easy to customize. A friend of Ryan's recommended Barn Light Electric. For the new greenhouse, the team selected the Wilcox Deep Bowl Pendant Light. These handcrafted pendants are customized with 20″ shades, a Textured Black powder coat finish, and standard black cords.
"We selected these pendants because of the classic and simplistic statement they make which contrasts beautifully with the warm wooden materials used in the build," says Leah Liebler, content and community manager for Mirai. "We chose the black finish and black cords to create a seamless look."
For the exterior of the greenhouse, the team chose a matching Wilcox Deep Bowl Gooseneck Light also customized with a 20″ shade and Black powder coat finish. A G24 gooseneck arm offers a classic profile and generous projection from the façade.
"We wanted to create a welcoming and industrial atmosphere at the entryway which blends seamlessly with the fixtures used inside the space," Leah explains.
In another area of the garden, wooden arches offer an eye-catching, architectural focal point. The bonsai trees beneath are highlighted by Loma Stem Mount Pendants. These wet-rated pendants feature a sturdy stem that conceals the wiring making it a perfect option for an outdoor setting such as this.
"We were drawn to the Loma Stem Mount Pendant because of its shape which we love," Leah notes. "They make a bold and classic statement within the structural space without detracting from the trees and overall garden space."
The Loma Pendants are customized with 28″ shades which feature a Matte Black exterior finish and a White interior finish. The pendants are mounted with 36″ stems also in Black.
"These customizations were chosen for consistency in design," Leah says. "We appreciate the quality and durability they provide for our greenhouse and garden needs while also making their own classic statement." To learn more about this magical place, check out their YouTube video!
Photos courtesy of Bonsai Mirai