Stem Mounted Vintage Pendants Complete Charleston Kitchen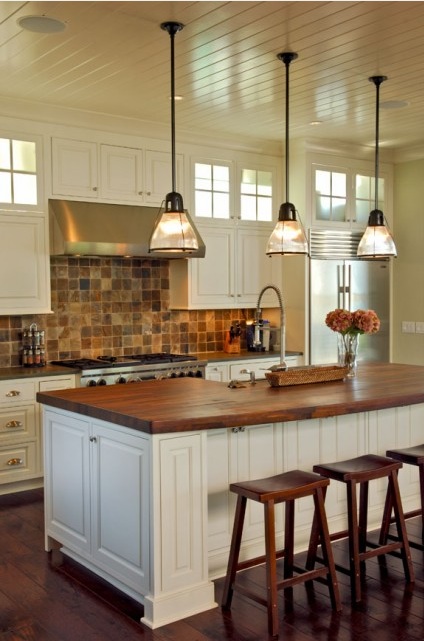 In some homes, you can almost feel the personality behind the design. The Charleston riverfront home pictured above is the perfect example of a home that overflows with warmth and comfort. In the photo above you'll see three stem mounted pendants that are virtually identical to the Altamont Pendant Lights available at Barn Light Electric. A set of wooden stools on the side of the island invites you to sit down for a quick snack or cool refreshing drink.
To get this look for you own kitchen, the Altamont Pendant is available with a variety of stem lengths and three traditional finishes: Old Bronze, Polished Nickel, Satin Nickel. The Old Bronze finish on the light's stem is a nice contrast to the off white cabinets and walls and was a good choice to keep it from blending in too much.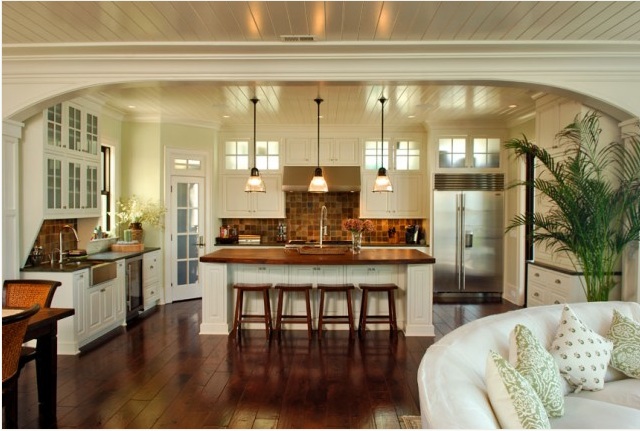 A photograph from another angle shows a decorative archway connecting the kitchen to the small dining and living room. The industrial age pendant lights are only one of many beautiful features throughout the home. They have a rich, high end look and help to bring warmth to the country-style, relaxed home. This culmination creates a comfortable atmosphere that's as welcoming as Charleston, the "best-mannered" city in the U.S.
Friendly folks aren't all that Charleston is known for. It's also a popular destination spot for tourists who appreciate historic architecture. The architect of this riverside house, Christopher Rose Architects, (christopherrosearchitects.com) is a member of the U.S. Green Building Council. Mr. Rose is inspired by the ideas and personal experience of his design team. Whenever they approach a project, they tap into their personal knowledge of the state's architectural history and climatic landscape. To find more vintage style pendants like the Altamont Pendant, visit our Vintage Pendants section online.
Photos Courtesy of Christopher Rose Architects & Tripp Smith Photography