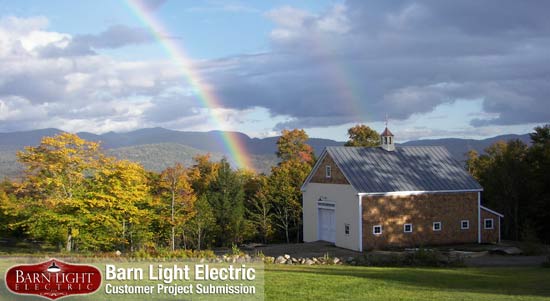 Somewhere Over The Rainbow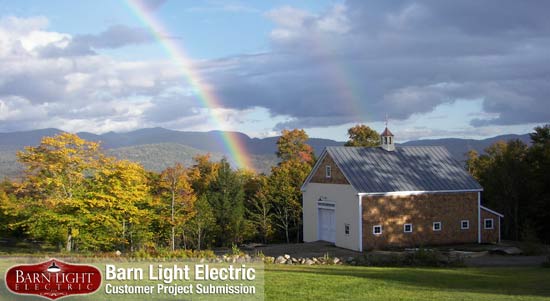 Perched high above the beautiful terrain of New Hampshire, about 24 miles from Lake Winnipesaukee, lies one of the most impressive customer project submissions we have ever received. The photo alone belongs on a postcard or travel brochure with the bright fall colors, mellow tones of the barn, and of course the double rainbow culminating together to create a breathtaking moment in time. The rich brown tones of the cedar shakes are highlighted by the creamy muted yellow siding on the front of the barn, creating a complimentary division between barn and its surroundings. This theme is carried through to the roof of the barn, where the gray sheet metal is divided in the middle by an octagonal cupola. The cupola compliments the front of this exquisite example of American history, providing a break between the roof and the mountains in the background.

On further examination of the bay door on this traditional New England bank barn, the subtle outline of a 16" Shallow Bowl on a HL-A Gooseneck Arm becomes apparent. This warehouse shade and gooseneck, featured in dark green, work well together with the various earth tones on and around the barn. The American made quality and rugged durability allows this shade to endure the harsh winters of New Hampshire with the same style and detail that defines this immaculate barn. With its low profile and vintage inspiration, there is no wonder why the Shallow Bowl was chosen to illuminate this impeccable example of New England history.