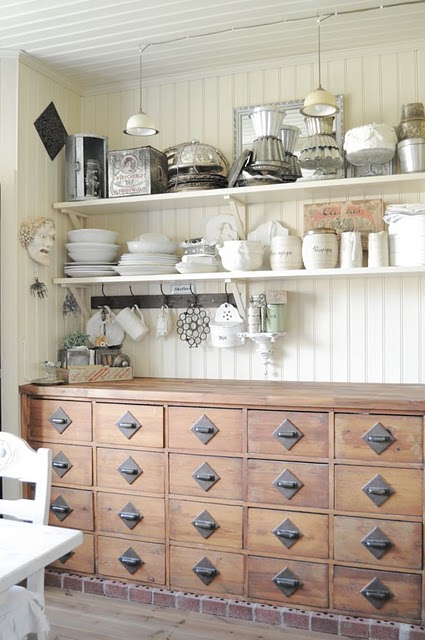 Simple Pendant Lighting for a Remodeled Kitchen Pantry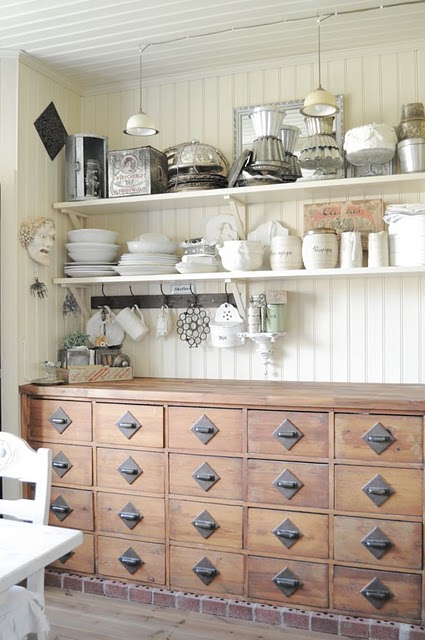 Most storage solutions have evolved over the years through popular stores like Ikea and The Container Store, however, there hasn't been much regarding the evolution of kitchen storage as many still turn to traditional cabinets, shelving or pantries.

If you've got a larger pantry space, tucked behind plain, slatted doors, it's time to take those doors down. Let's get creative with your shelving and create a mini buffet area like you see on the right. Leave the upper shelving and use them to store dry goods like flour, sugar or cereals. You can even use the shelving to showcase your collection of serving dishes and platters, as opposed to tucking them away for no one to see. If you're lucky enough to have a piece of vintage industrial furniture like this chest of drawers, you can use it to store towels, silverware or table cloths. Talk about the potential for organization with all of those drawers!

Now that we've got your creative juices flowing, it's time to think about pendant lighting for this little area. Recessed lighting is too plain and doesn't evoke much character – but what if you don't have a junction box in this area either? Our solution? Swagging your pendant light over a hook. It's a quick and easy fix and doesn't require the help of an expensive electrician.
Consider a delicate and simple pendant lamp like The Fargo to elegantly light this small space. Shown in aged brass on the left, the Fargo Pendant is available in over 16 other finishes for the cup and the shade. You also have the option for cute little accessories like a vintage style key or adding arms onto the cup. Don't forget your Edison Light Bulb either, it can really become the finishing touch to your new barn pendant!
Photo Courtesy of Inspiration i Vitt