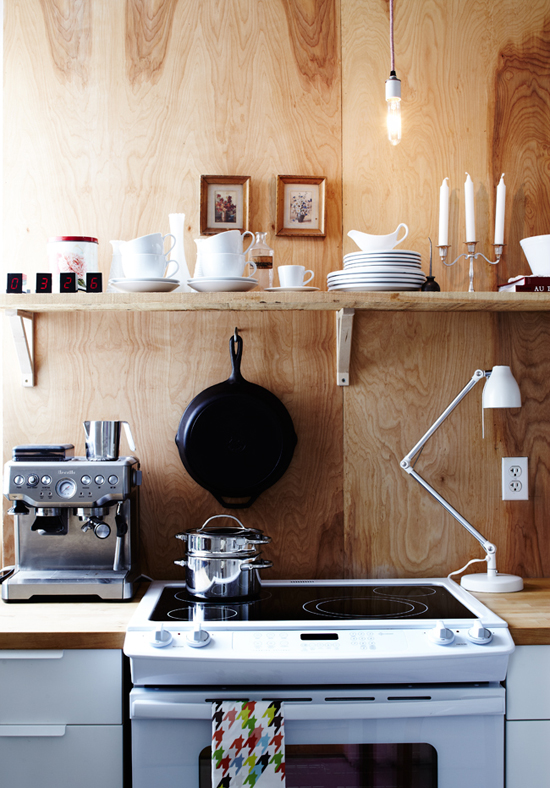 Simple Barn Pendant Lights for the Modern Industrial Kitchen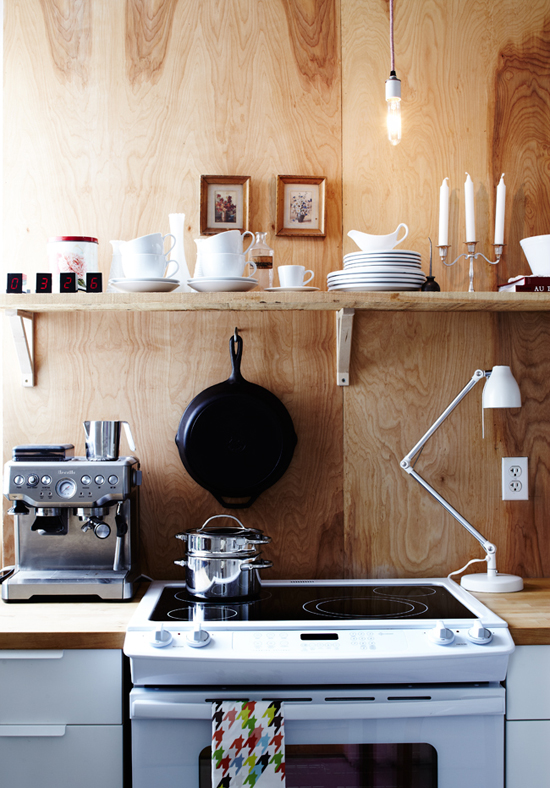 Simplicity and minimalism occasionally take center stage in industrial décor. While each person has his or her own definition of what an industrial farmhouse should be comprised of, we're sure that this small kitchen vignette will appeal to anybody who appreciates an easygoing approach to design.

Through the use of cost effective materials, a straightforward and uncomplicated look has been reached here, you may even be able to salvage some pieces from your own attic. All of that old China you received from Grandma makes a charming addition to open shelving, especially when paired with an antique candelabrum. Don't forget to include your modern necessities too – just because you want a rustic look doesn't mean you have to live like they did in the 1800's. An espresso machine is the perfect pick-me-up in the morning and is a high tech counter accessory. An unconventionally placed task light on the counter top projects a focused stream of light onto the work surface, but it cannot possibly illuminate the entire kitchen – therefore a bare bulb pendant hangs above the oven range.
Since there is no shade surrounding the bulb, it freely bathes the room in light while adding to the simple farmhouse look. For a similar style, the Barn Light Indy Industrial Pendant Light is a minimalist ceiling light, consisting of a single bare socket. For added authenticity, the Indy Industrial Pendant shown to the right is complete with the addition of a Nostalgic Edison Light Bulb and antique turn key on/off switch. Pendant lighting like this has peaked in interest worldwide – similar ones have been seen in French cafés to California wineries. Who could possibly resist a vintage industrial pendant lamp that looks like it was taken from a rugged factory or warehouse?
Are you looking to change your home into a tried and true industrial farmhouse? Check out our full selection of barn pendants to complete your look.
Top Photo Courtesy of Poppy Talk