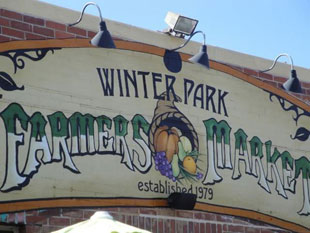 Sign Lighting That Draws Attention!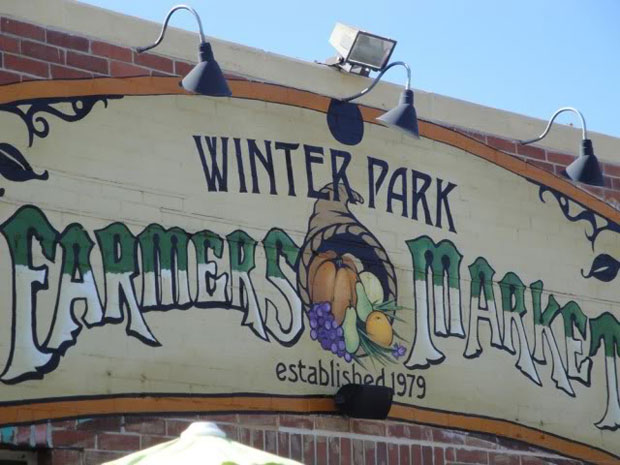 Well placed sign lights provide a warm glow that invites customers and guests. Functional versatility is one of the main reasons why gooseneck lights hold so much value with shop and restaurant owners. During the daylight hours when the lights are not illuminated, the shade's shape and style add an aesthetically pleasing appeal to the exterior. When the sun goes down, the gooseneck lights provide focused lighting in a concise area to make an immediate impression.
In the photo above, three angle shade gooseneck lights enhance the nostalgic appearance of the brick facade's mural at the front entry of the farmers market in Winter Park Village. The well placed lights match the surrounding area in the suburbs of Orlando that was founded by wealthy New England industrialists before the turn of the 20th century. Winter Park is recognized as the first centrally planned community in Florida, with many other shops around the downtown village utilizing sign lighting along their storefronts.
Stores in downtown villages and business districts rely on foot traffic from window shoppers for a good portion of their daily revenue. To lure customers from the walkways, storefronts must be attractive, inviting and well presented with sign and window lighting. Barn Light Electric offers an extensive collection of shade sizes, arm lengths and finishes to meet the unique dimensions of your storefront, business, restaurant or even a home. All of these features combine allowing you to 100% fully customize sign lighting to fit your needs.
With various gooseneck arm lengths and shade styles available from our sign lighting, optimal focus for "attraction zone" lighting can be easily achieved. Sign lights come in numerous shade sizes ranging from 7 inches to 17 inches. They make a great accent to any retail clothing store, coffee shop, boutique, or restaurant (just to name a few of course).
Photo Courtesy of Tasty Chomps Food Blog