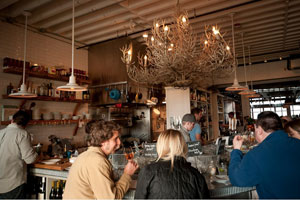 Featured Customer | The Walrus and The Carpenter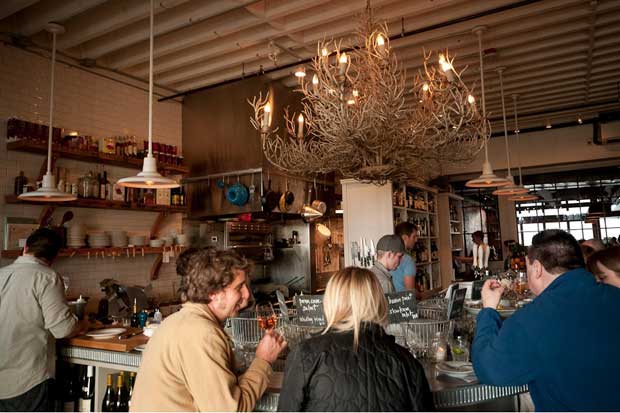 We've been on a bit of a West Coast kick lately, and we're heading back over to the Emerald City for this week's featured customer: The Walrus and the Carpenter, a delicious oyster bar located in Seattle's Historic Ballard Avenue.

For owners Jeremy Price, Renée Erickson and Chad Dale, the most important priority (besides the quality of the food), was the atmosphere. With additions like the Shallow Bowl Pendants and Angle Shade Gooseneck Lights, they created a setting that is "stripped of pretense to feel like home."
In the dining area, you'll see five white Barn Light Shallow Bowl Pendants shining over the counter. It's here that patrons dine on locally harvested clams and mussels, smoked fish and specialty meats! Shallow Bowl pendants are some of our most popular lights for restaurants and bars. Along the back wall, you'll notice our Angle Shade Gooseneck Lights between the menus and the framed art.
The Walrus and the Carpenter's comfortable yet classy setting combined with succulent oysters has earned awards and accolades from major press, including GQ Eats: "The 10 Best New Restaurants in America." Price, Erickson and Dale opened the bar in a newly restored building that "blends the elegance of France with the casual comfort of a local fishing pub."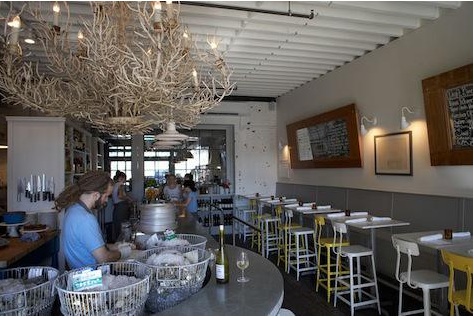 Ironically, the construction process behind The Walrus and the Carpenter was very similar to phases of our own a few months ago. Instead of throwing out unwanted materials from the former Marine Hardware Shop, several pieces were re-purposed and used around the oyster bar. The back mirrors containing the menu are made of the original doors, while additional shelving was made from salvaged wood out of the old warehouse.
Did You Know? The Walrus and the Carpenter is a narrative poem written by Lewis Carroll way back in 1871. It appeared in his book titled Through the Looking-Glass; it also was mentioned in Disney's classic, Alice and Wonderland.