Rustic Industrial Pendants Add Flavor to Outdoor Store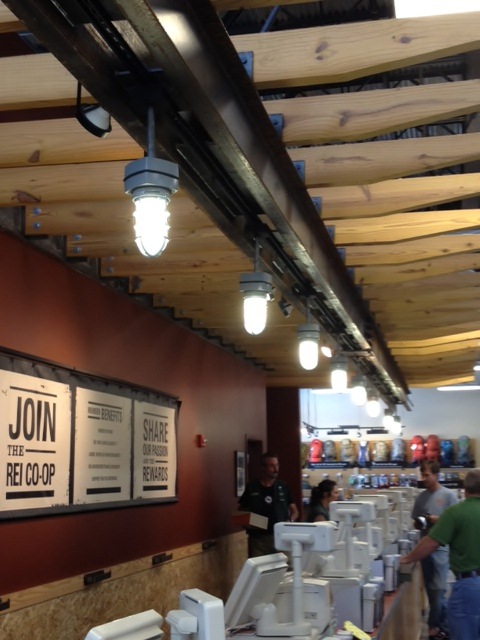 It's surprising somewhat to see how many commercial operations are jumping on the rustic industrial decor bandwagon. One of the latest sightings was at an REI store in North Carolina. REI got its start in the 1930s when a Pacific Northwest mountaineer was searching for a good quality ice axe. He finally found one through an Austrian gear catalog, but he saw a niche to be filled and REI was born. It is now the nation's largest consumer co-op, returning the majority of profits to its members through annual refunds based on their purchases.
The cash registers in the North Carolina location are highlighted by a row of rugged pendants very similar to our Barn Light Atomic Industrial Pendant, part of our collection of Rustic Pendant Lighting. This pendant is based on explosion proof designs and features a cast guard surrounding the glass. Available in two sizes, this industrial pendant can take on a variety of different looks depending on your choice of finish colors and glass options.
More than 55 finish colors are available including traditional colors of black or galvanized, or browse our selection of specialty and aluminum finishes that range from Painted Weathered Brass or Sierra Wash to a bold Trans Yellow or sleek Polished Copper. Eight glass choices includr colored, textured, clear, or frosted options. You can see below how changing up the color of the cast guard and glass can give you very different looks!
Mountings can also vary with this very adaptable fixture. Choose a cord hung mounting for indoors or a stem mount for outdoor applications. We also have a flush mount option for low ceilings or tight spaces.
If you prefer the look of a wire guard as opposed to the cast guard, look no further than the Barn Light Wire Guard Industrial Pendant. Also available in two sizes and with dozens of finish options, this fixture will look right at home in any business seeking a rugged industrial look!