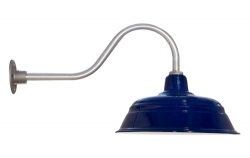 Review of the Popular Bomber Porcelain Gooseneck Light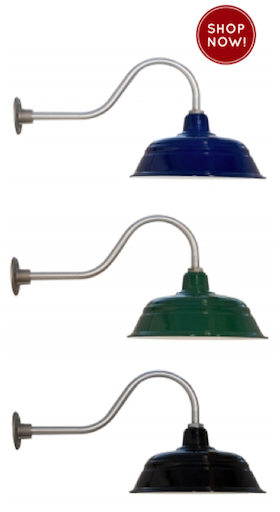 For nearly a century, Americans have trusted the quality of products from the Goodrich brand, including vintage inspired lighting fixtures like the Goodrich® Bomber Porcelain Gooseneck Light. With this iconic piece of American made lighting, you'll add a historic and rustic industrial touch to the exterior of your home, business or restaurant.

As the old saying goes, you only get one chance to make a first impression, and The Bomber's unique style is sure to stand on its own! The Bomber combines effective lighting with a look that represents true, traditional styles of the 1930's, 40's, and 50's. Its most distinct feature is a big 17″ shade – the largest porcelain enamel warehouse shade we offer.
Since they were originally used around industrial environments, gooseneck lights like the Goodrich® Bomber have expanded into mainstream design for use in residential and commercial areas, including restaurants, home living rooms, kitchens, and garages. While each light features traditional finish options, the sleek glass exterior of a porcelain enamel coating easily transforms these classic barn lights into a modern work of art!
Once The Goodrich® Bomber is installed on any interior or exterior wall, the area it illuminates will become the focal point of any space. If the gooseneck arms shown above look too short or too long for your spacing needs, there are multiple gooseneck arm lengths to adjust the length of the light's reach. The Bomber is available in gooseneck lengths of 14″, 15″, 22″ and 24″, with an aluminum wall backing plate included with each arm.
All porcelain enamel barn lights from Barn Light Electric are CSA Listed for outdoor wet locations. CSA certification indicates a product complies with national and international standards and are sometimes a requirement when installing lighting in commercial spaces. These fixtures are OSHA approved as well! For ceiling lighting options, consider the Benjamin® Bomber Stem Mount or the Ivanhoe® Bomber Warehouse Pendant.