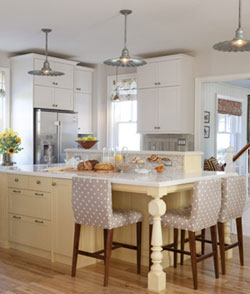 Radial Wave Pendants Offer Timeless Style for Kitchen Island Lighting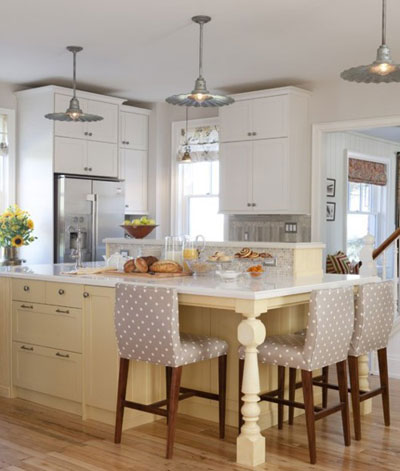 When it comes to kitchen lighting, the Barn Light Radial Wave Pendant is one of the most popular choices for homeowners and interior designers looking to bring new life to their center islands.
Today's visual representation of this comes from Sarah Richardson. When she first introduced the photo, fellow bloggers and followers across the country couldn't resist the urge to repost and rave about the incredible industrial farmhouse style layout. After all, it reflects her own design philosophy – she has hosted four television shows about shabby chic home design and the photo today is a perfect example of her passion for blending a client's personal needs with timeless appeal.

What sets the Radial Wave Pendant apart from other barn pendants? For starters, it proudly features a unique fluted edging that is unlike any other shade styles. If you've followed our blog for a while, you may recall when Lori at Frugal Farmhouse used a similar stem mount light to showcase her latest kitchen remodel project. Both designers chose a galvanized finish for their pendants as these finishes compliment nearly all color schemes. However, one look at our finish chart will reveal over 50 other finish choices available!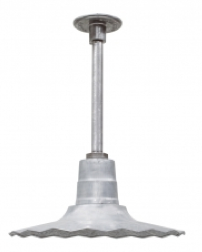 With a linear arrangement like the one featured above, the pendants are allowed to shine over areas where extra lighting is most appreciated – meaning the seating and serving area. As one of the most heavily used areas of the home, a kitchen island is more than likely the go-to place to grab a quick snack or finish up the night's homework. With supplemental lighting from barn pendants, you'll have a much easier time cleaning up the spills and crumbs left behind after each meal. But don't think that's all – adults need a space for themselves as well. For weekends of entertaining, radial wave pendants also work as an elegant focal point and can easily become a topic of conversation!