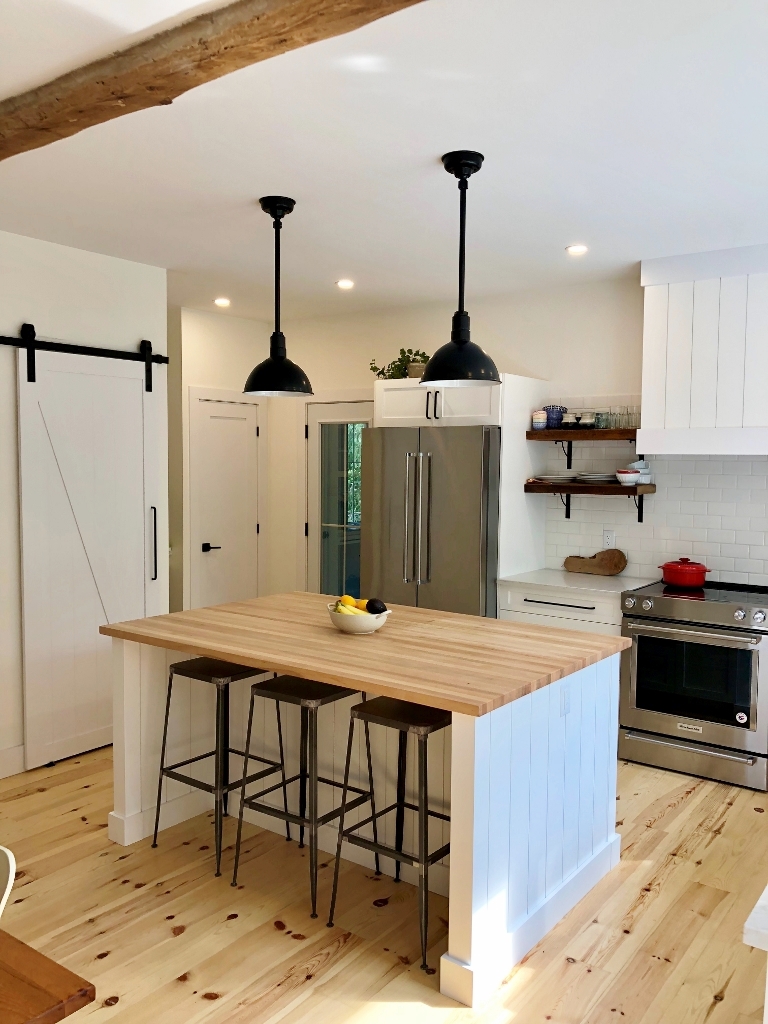 Deep Bowl Pendants Offer Classic Style in Kitchen
Tucked away in a small town about 45 minutes from downtown Ottawa, Canada, Stephanie and her husband dreamed of building a modern farmhouse. They purchased two acres of land and shared a vision of a farmhouse mixed with rustic elements.
"Fortunately, my husband and I have a similar design aesthetic," Stephanie says. "We acted as our own general contractors, hiring and coordinating the various trades, and my husband also did some of the work himself. It took us about 11 months to complete although there are many projects yet to be done!"
And if that wasn't enough to keep her busy, Stephanie was pregnant throughout the whole building process and gave birth to their second child two weeks after they moved in!
In the kitchen, the couple wanted to capture the beautiful views so the design plan was to keep the interior neutral and simple. Bright white paint and cabinetry contrast with warm wood flooring, open shelving, and an exposed beam to create a bucolic feel. Although she knew barn lighting was an obvious choice given their design direction, Stephanie spent countless hours searching for the perfect fixture.
"Lighting is such an important element and I really wanted to make sure I got it right," she explains. "It was probably the thing I spent the most time deliberating in the whole kitchen." The winner of Stephanie's quest is the Wilcox Deep Bowl Stem Mount Pendant Light. Stephanie customized these deep-bowl pendants with 12″ shades, Black finish, and 18″ stems.
"I loved the classic and simple design of the Wilcox," she notes. "The customizing options were also great. As soon as we goth them, it was obvious how well they were built. My husband said they were quite easy to install too." The couple use Edison bulbs in the pendants for a soft glow. A dimmer switch allows them even more flexibility with the amount of light produced by the fixtures.
"I briefly considered going with a smaller shade but am so happy that I didn't. I love how the black finish contrasts again the otherwise white kitchen," Stephanie says. "I absolutely love the way the lights look and can't imagine any other type of lighting in this space."
Photos courtesy of the homeowner