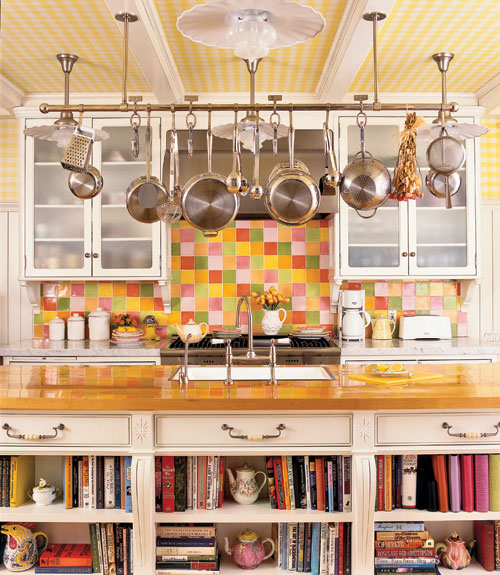 Radial Wave Pendant Lighting for a Bright and Bold Kitchen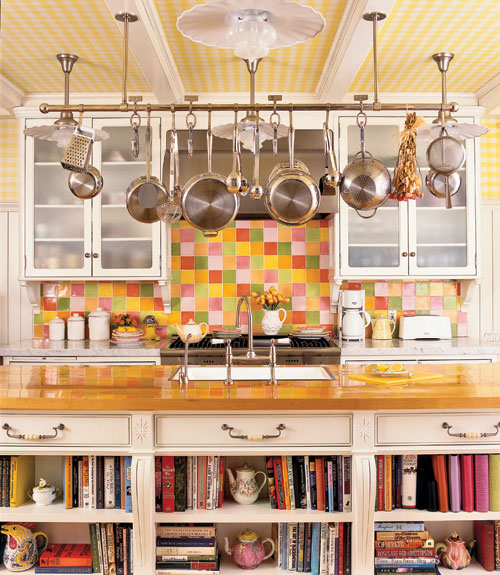 Bringing bold, bright colors into key areas of your home isn't something for the faint of heart. Then there is some who use multiple vibrant colors and incorporate patterns – now we're taking about some of the bravest choices for interior design. While it is an intimidating concept to think about, when it's done right you may get something like we've featured today. A yellow gingham ceiling and a plethora of fun tile work contribute to this kitchen's warm and welcoming atmosphere.

If you've been thinking about utilizing bold shades in your home, make sure to balance it out with plenty of whites. Off white or eggshell cabinetry and trim bring in that farmhouse feel, as do the collections of recipe books and miniature teapots below. The open shelving on the island is a great alternative to closed cabinetry, and gives you the opportunity to show off a few more colorful mementos.
No ordinary barn light would work in this kitchen, no sir. A closer look reveals four Radial Wave Pendant Lights mounted over key areas in the room – above the island and over the walkway. The satin nickel stems coordinate with the large pot rack and nearly blend in. The Radial Wave Pendant is a favorite amongst those looking to create a retro diner atmosphere or just a true industrial farmhouse.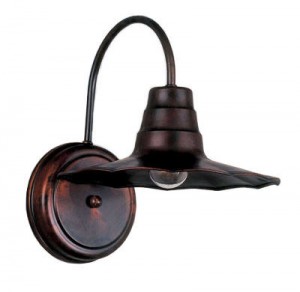 If a pendant light isn't exactly what you're looking for, the Barn Light Radial Shade Sconce has the same distinctive wavy appearance. As an innovative alternative to recessed can lights, this small barn sconce is ideal for a bathroom vanity light or even a bedside reading light too. Designers love its look, while guests will comment on your great taste! The Radial Shade Sconce won't take much from your budget either; starting at a mere $95.00, you may be tempted to use them all over your house.
Do you have photos of where you used your barn lights? Send them in to us, we love seeing your projects!
Top Photo Courtesy of Country Living