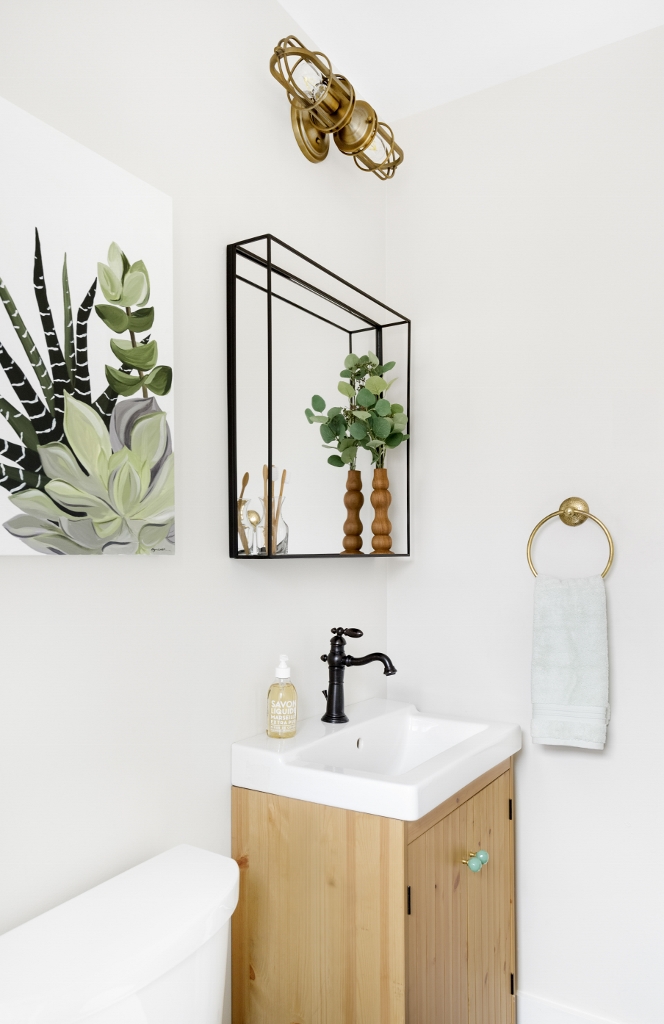 Pro's Corner | Rustic Industrial Wall Sconce for Guest Bath Makeover
Guest bathrooms are often overlooked when it comes to design. They are notoriously small and used only on occasion. How much time, effort, and money do you really want to spend on this necessary, albeit often-dark, unused room?

For Jena Bula, principal of Delphinium Design in Charlotte, the remodel of her own guest bathroom offered the chance to demonstrate just how much creativity can be packed into small spaces!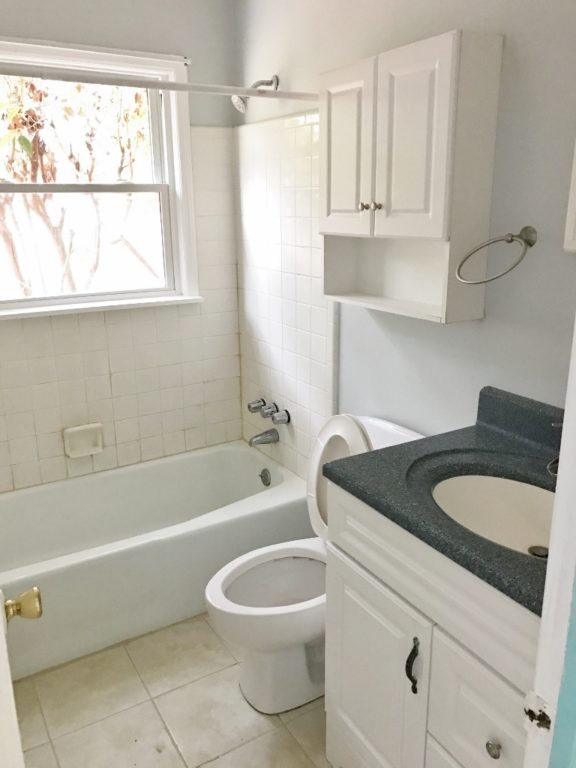 "I wanted a space that our guests would enjoy and feel comfortable in, but it's a small space, so I took the opportunity to do something fun with it," Jena says. "This was a complete gut, but we did not move any of the plumbing so the overall layout did not change." The photo above shows Jena's starting point.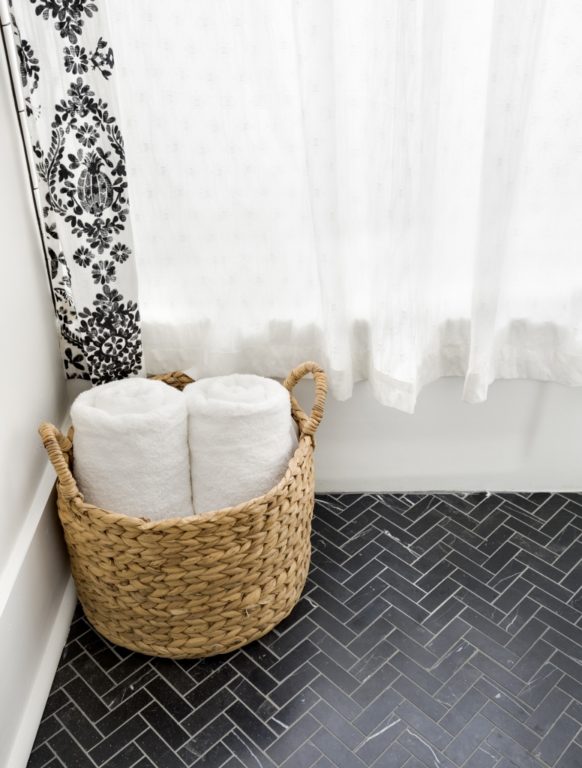 The wow factor came with the installation of black marble herringbone flooring. Jena balanced that focal point with neutral walls and 4×4 ceramic square tiles. To ground the space, she incorporated natural elements like the knotty pine vanity, greenery, and a succulents painting by local artist Megan Welsh. The final touch was the Watson Double Sconce over the vanity.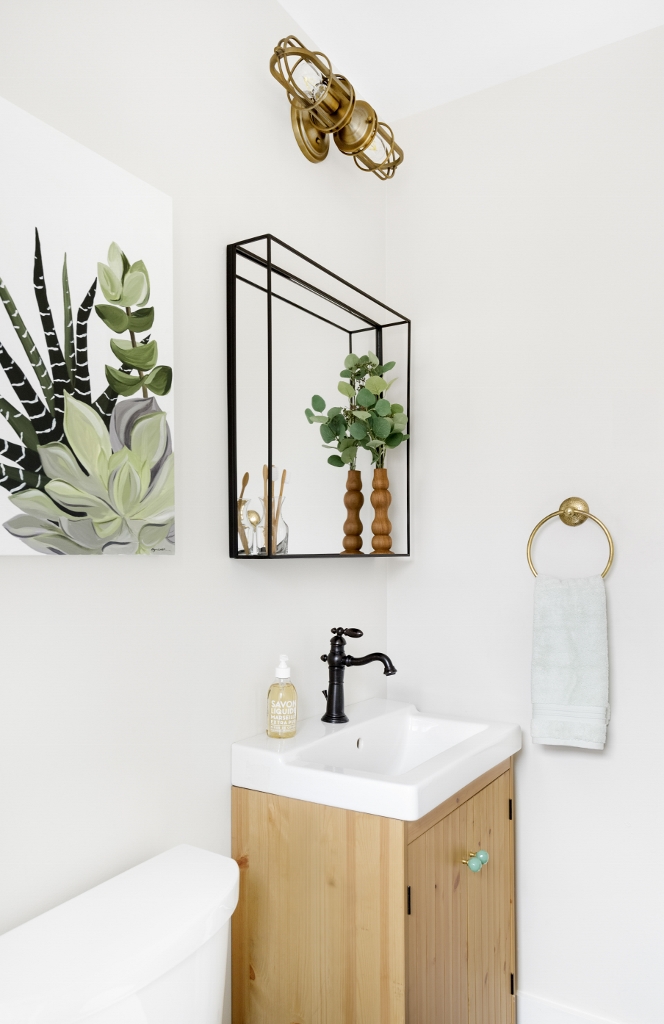 "It is important to me to incorporate local pieces in my work," Jena explains. "The less big box, the better. It's more personal and a one-of-a-kind experience for myself and my client."
The Watson Double Sconce is rooted in industrial lighting styles. Two rugged guards join in a compact wall mounting making it perfect for smaller spaces. The elegant Antique Brass finish elevates the rustic profile of the fixture.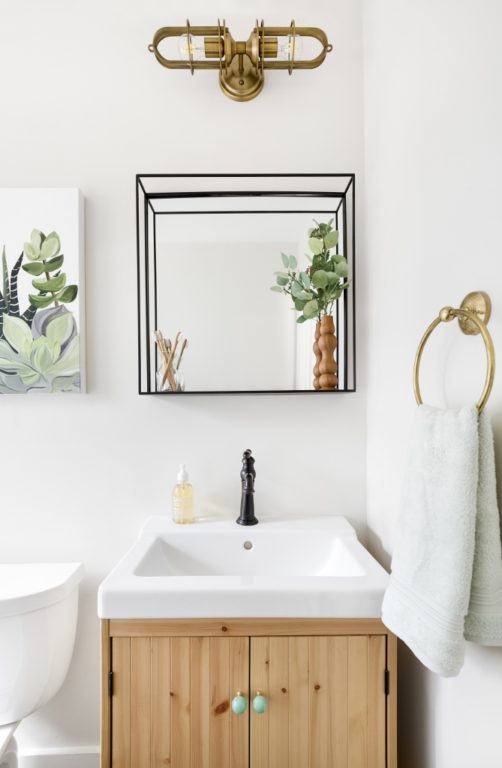 "I look at lighting as the jewelry of a space. It shouldn't be an after thought," Jena notes. "I needed a piece that was proportionate to the space and the mirror." Jena also wanted to use Edison style light bulbs so she needed a wall sconce where the bulbs would be exposed.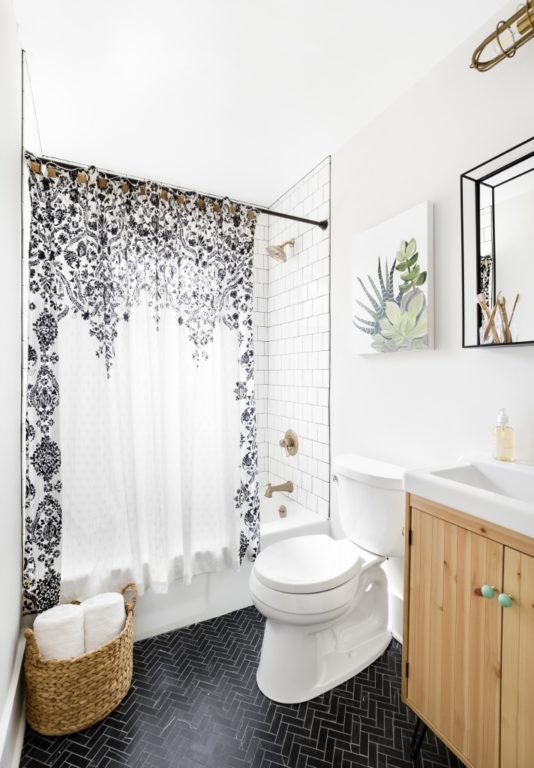 "The Watson Double Sconce checked all of my boxes!" Jena says. "I love how it pops in the space and helps pull all of the different elements together."
Although Barn Light Electric manufactures more than 97 percent of the lighting on our website, we do carry a few select imported fixtures. The Watson Double Sconce is one of these fixtures. For a similar look in an American-made fixture, consider the Atomic Topless Double Industrial Guard Sconce.
Photographer: Meagan Larsen
Artist: Megan Welsh