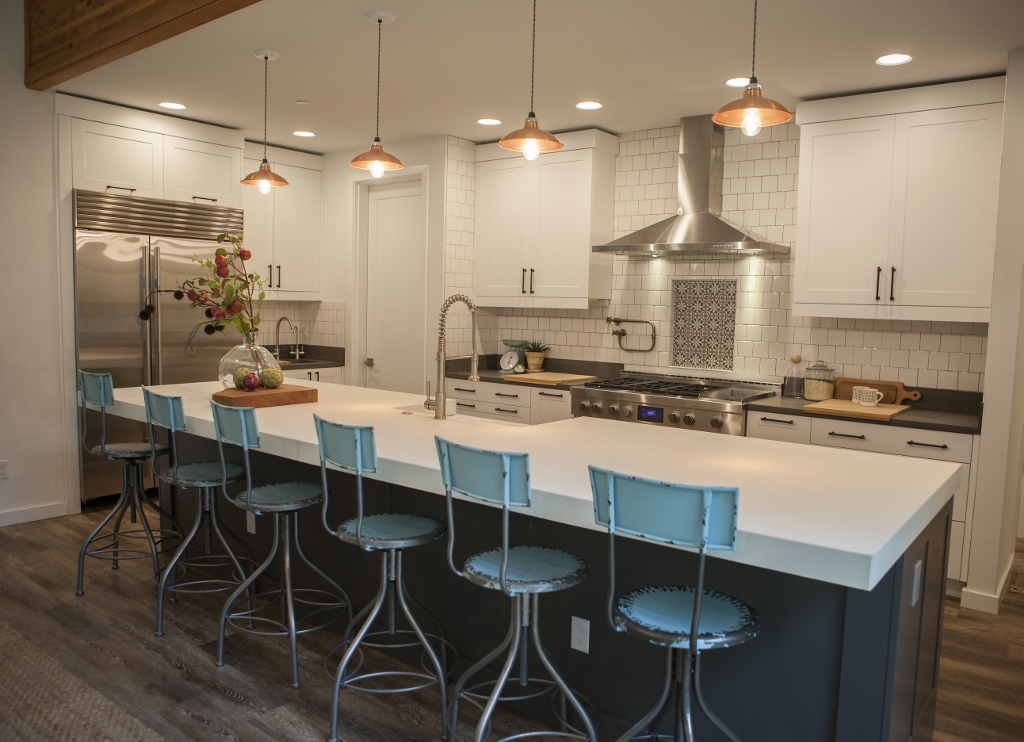 Copper Pendant Lighting Adds Warmth to New Kitchen
One request designers always hear is the desire for plenty of light. Whether it's sunshine streaming through a window, light-colored paint on the walls, or the perfect combination of task, accent, and ambient lighting, a light-filled room sets the stage for the rest of the design.
Jami Davis, of Harper & Hicks in Seattle, recently worked with a homeowner on a new home in Snoqualmie, Washington. While the floor plan offers an open layout with plenty of light, Jami wanted to bring balance to the space.
"The great room has so much natural light with large windows and French doors bringing the outside in," Jami says. "But with high ceilings, I wanted to add some warmth and color to the space." Starting with a mostly white palette, Jami looked to her lighting choices to bring color into the room.
Taking a cue from the wooden beams in the ceiling, Jamie chose the Sinclair Draftsman Pendant Light in Raw Copper to highlight the expansive kitchen island. She customized these handspun pendants with 10″ shades and black-and-white chevron cords.
"The copper lights above the island are fantastic and bring out the warm tones of the beams," Jami notes. "The quality of the fixtures is evident and being crafted in the USA made our decision to use Barn Light Electric an easy one."
In a nearby powder room, Jami chose a more industrial look for the small space. The Marathon SoHo Sconce, with a 14″ shade, features a rugged pipe mounting but the Teal finish softens the industrial edge.
"This was a fun pop of color for the powder room," Jami explains. "I had the vanity with large casters made by a local welder. The soft color on this light is perfect and the size is unexpected and fun."
For the kids' bathroom, two Double Market Industrial Guard Sconces add a playful touch to the vanities. Customized with a lively Barn Red finish, wire guards, and clear glass, these substantial fixtures provide plenty of light.
"I love the red finish on these as well as the size and character they bring to the space," Jami says. "In each room, the lights are a focal point. They bring warmth and color to the home, and the client is very happy with the quality."
Photos courtesy of Harper & Hicks