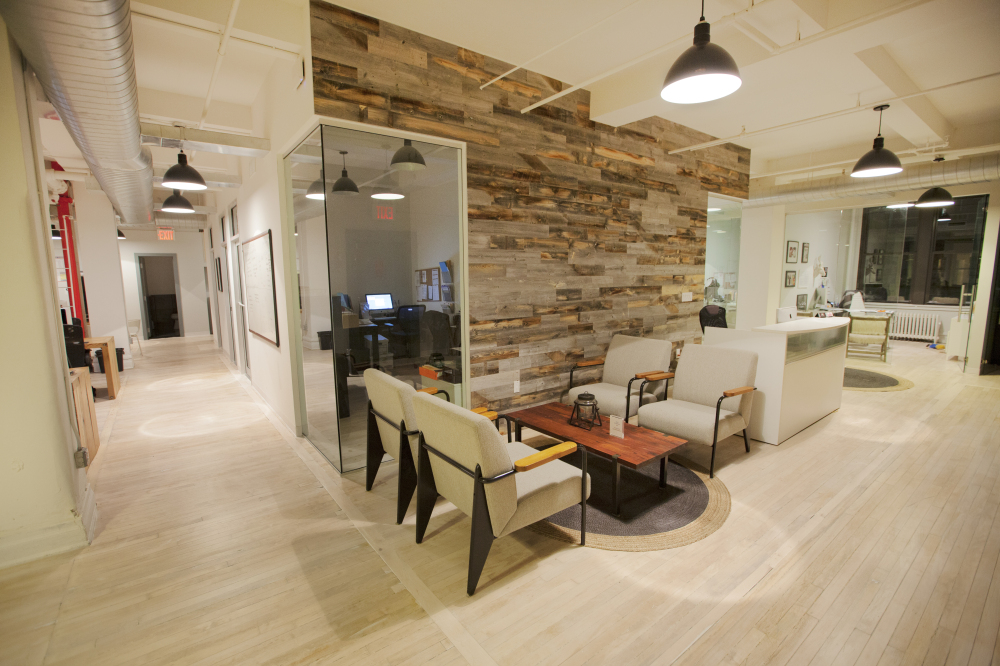 Pendant Lighting Plays Starring Role in TV Production House
A star is born.
When the offices of Story Culture, a television production house in Midtown Manhattan, were gutted and remodeled recently, designer Jowill Leano struggled with the unique challenges of the space. In addition to offices, there are editing/screening rooms, equipment rooms, communal spaces, a kitchen, lobby, and conference room all with their own special requirements for color, soundproofing, and lighting.
"The hardest challenge was lighting," says Jowill, a television and interiors designer who has worked on shows such as Lake Life and Extreme Makeover: Home Edition. "When you start to add walls, you lose all of the wonderful natural light from the windows. The best solution was to add glass walls and doors where possible and to have good interior lighting."
Enter the Wilcox Deep Bowl Pendant Light…
Knowing that the pendant lighting would play a huge role, Jowill searched for something beyond basic office lights. Her design palette for the space was eclectic with a bit of modern, a bit of farmhouse, and some rustic thrown in for good measure.
"We wanted to keep the space bright and modern with pops of color. They had some furniture they wanted to reuse and I wanted to add some rustic touches to warm it up a bit," she explains. "The Wilcox Pendant has a great shape and provides the perfect amount of light whether hanging above a dining table or, in this case, lighting an 8,000-square-foot office."
Jowill customized these deep-bowl pendants with 16″ shades, a durable Black powder coat finish, and standard black cords.
"I knew I wanted to use Barn Light Electric product in the space. It's important to be able to customize products to reflect the space and the people I'm designing for," Jowill says. "I also love any products that are made in the USA. The Wilcox is a vintage style done in a modern way. It's perfect!"
The Wilcox is one of our most customizable barn pendants with six shade sizes and more than 40 finish colors to choose from. Custom colors are available upon request. Wire guards or cast guard and glass can be added, and this shade is also available in LED and porcelain enamel.
"So many fixtures either look good but don't provide enough lighting or provide the lighting but are a designer's nightmare," Jowill says. "The Wilcox checks all the boxes. We love how they look and they perfectly light the space. Did I mention we put up 38 of these pendants? Now that's true love!"
Photos courtesy of Jowill Leano