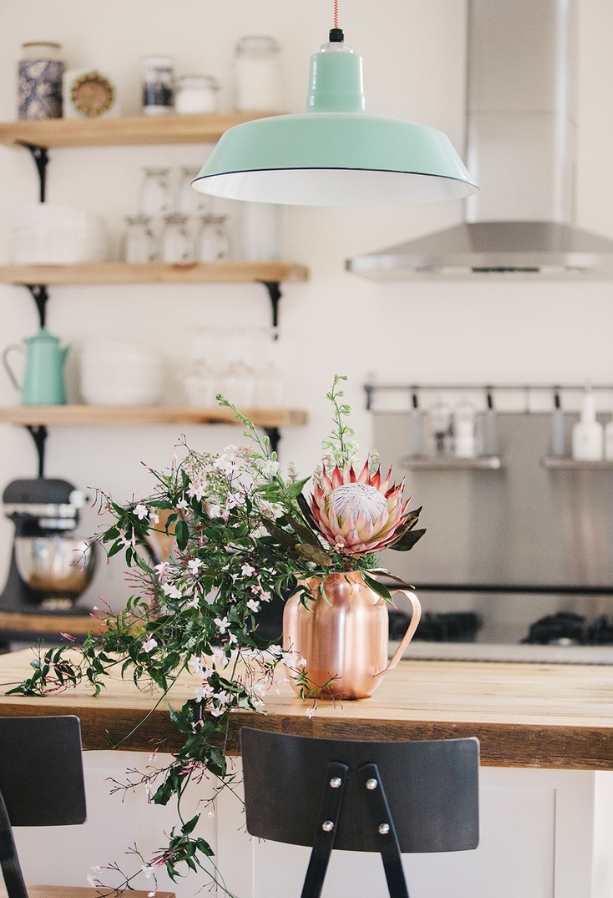 Chic Kitchen Lighting Adds Pop of Color in Neutral Space
In my Monday morning meander through Houzz, I spotted this post on how to bring balance to an all-white kitchen. The crisp look of white remains popular according to this Houzz research, but many homeowners favor a splash of color to soften the look.
One of the examples featured in that Houzz post came from designer Senalee Kapelevich of SVK Interior Design in San Francisco. The featured space was a kitchen in dire need of a refresh.
"The space was completely bare with only a free standing fridge and range," Senalee says. "The wife is from Denmark and prefers a very Scandinavian aesthetic. We knew we were going to create a neutral palette and layer pops of color on top of that."
The client's choice of color was a minty green — a perfect match for our Jadite finish color in the Porcelain Enamel Lighting collection. Senalee chose the Original™ Warehouse Pendant Light as the centerpiece of the space and to bring task lighting to the new island.
She customized this handcrafted kitchen pendant with a 16″ shade and a red-and-white cloth cord for another subtle touch of color.
"We wanted a light that felt casual and rustic," she explains. "People always comment on the mint; everyone seems to love that color. Our favorite part is the red-and-white cord."
The Sky Chief is one of our most popular porcelain enamel pendants and, like all of our porcelain enamel lights, is hand spun from commercial-grade steel. Each shade is coated with multiple layers of porcelain enamel glass then fired in a 1,500-degree oven to seal the glass to the shade. The result is a high-gloss finish that is easy to maintain and provides years of service.
"I think Barn Light Electric offers great value," Senalee says. "They have an amazing combination of chic Americana with outstanding prices." Senalee started SVK Interior Design in 2010 and offers both renovation and decorating services to commercial and residential clients.
Photos courtesy of Michele Lee Willson Photography