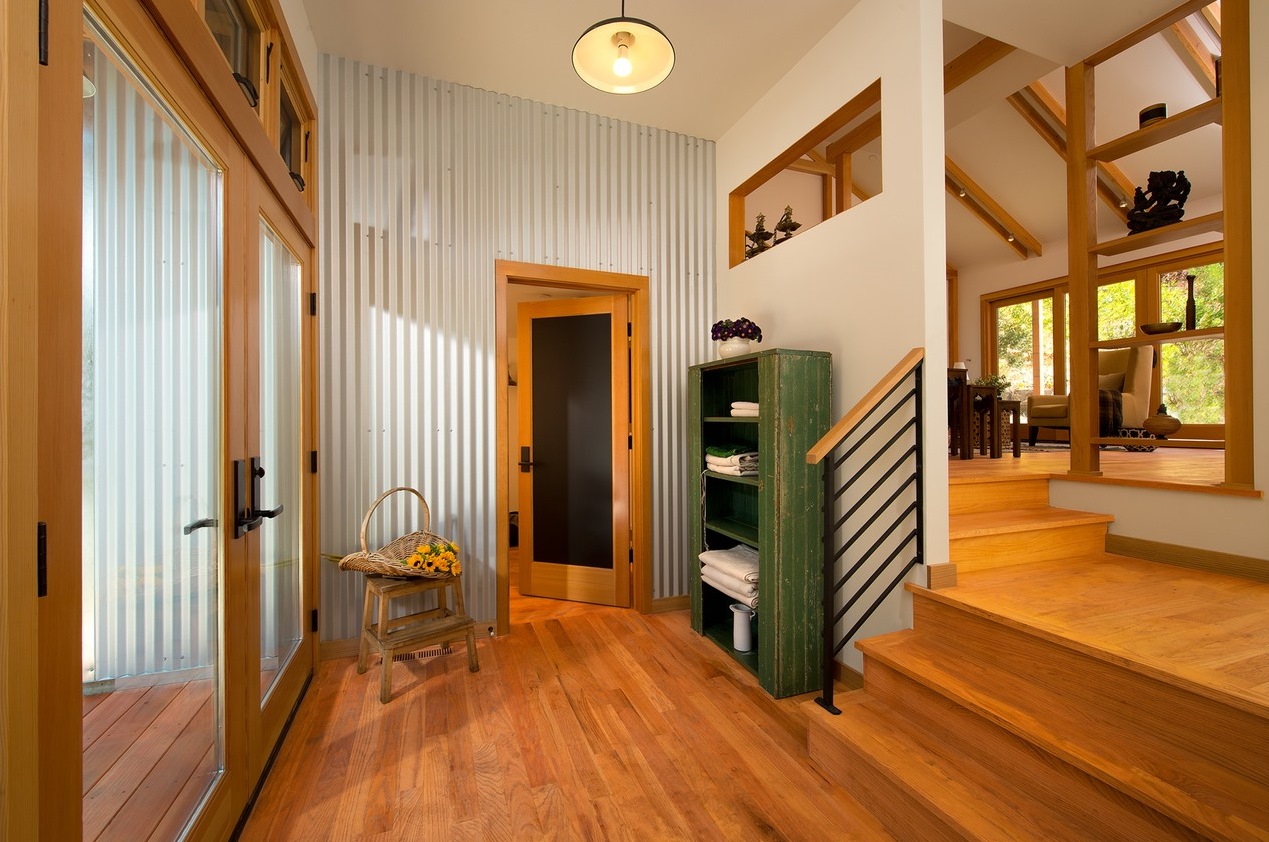 Professional Projects | Porcelain Pendants Grace New Addition with Style, Efficiency
California is undeniably the country's most environmentally conscious state where everyone from the governor's office to small local businesses aim to reduce their carbon footprint through energy-efficient building design and renewable energy options. One of the state's many green builders is Boa Constructor Green Building & Design which has been specializing in natural and sustainable building practices since 1980. Located in the Santa Cruz area, their design team recently tackled a "modern barn" addition that features wood elements in fir, a corrugated metal wall, and porcelain enamel barn lighting.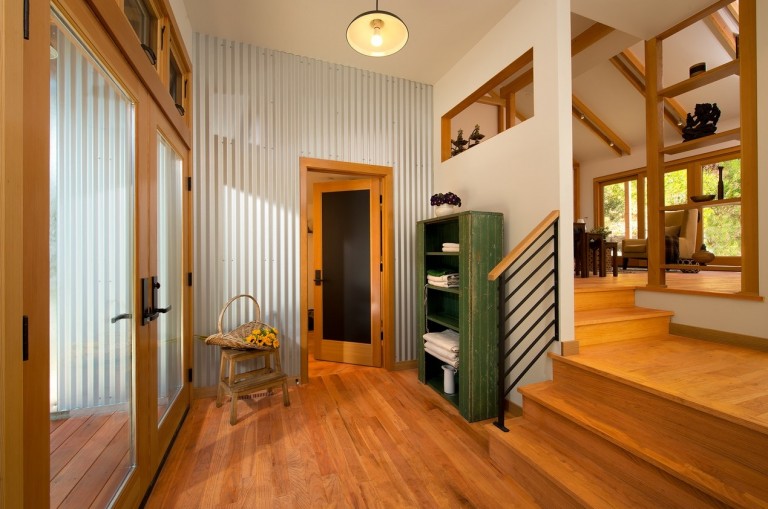 The space added 960 square feet to the 1,340-square-foot main home and includes an office, living room, laundry room, and spacious attic bedroom and bath according to Designer Debrae Lopes. The corrugated metal wall wraps around the outside of the building then extends into the interior as a feature wall for the entry with high ceilings and a chalkboard panel door. Debrae chose a 14″ Marathon Pendant Light with a Black finish, standard black cord, and black canopy for the entryway lighting.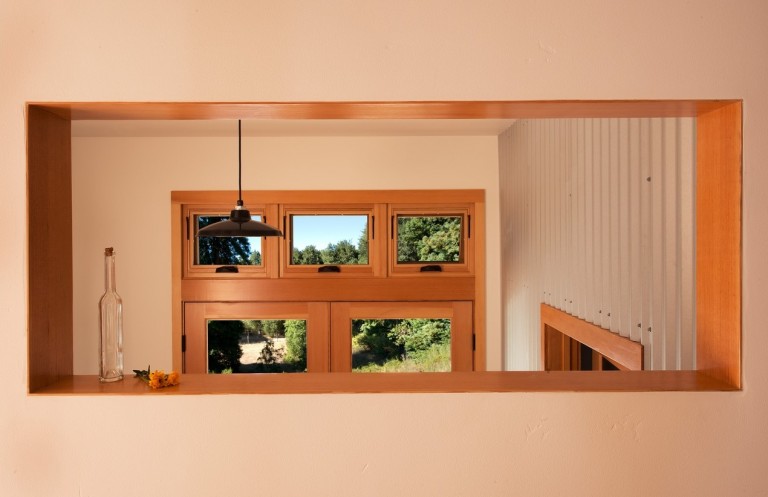 "We chose Barn Light Electric because of its affordability and, while being representative of traditional barn lights, the company also has options with more modern European styling which is great for the two combined vernaculars of this project," Debrae says. For the side entry, Debrae chose a slightly smaller 12″ Aero Porcelain Pendant in White with a black cord and white canopy.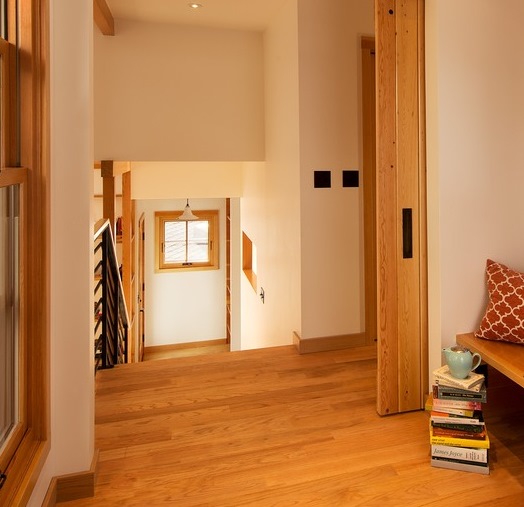 "I chose the black Marathon for larger areas and the white Aero for smaller areas because both are more modern in styling with clean lines, saturated color options, and high gloss," Debrae explains. "I didn't want the lighting to pop. I wanted to use the lighting to emphasize the other material choices in the finishes." Debrae adds that using a darker, larger fixture can make a large space feel smaller while using a lighter, smaller fixture can make a small space feel larger.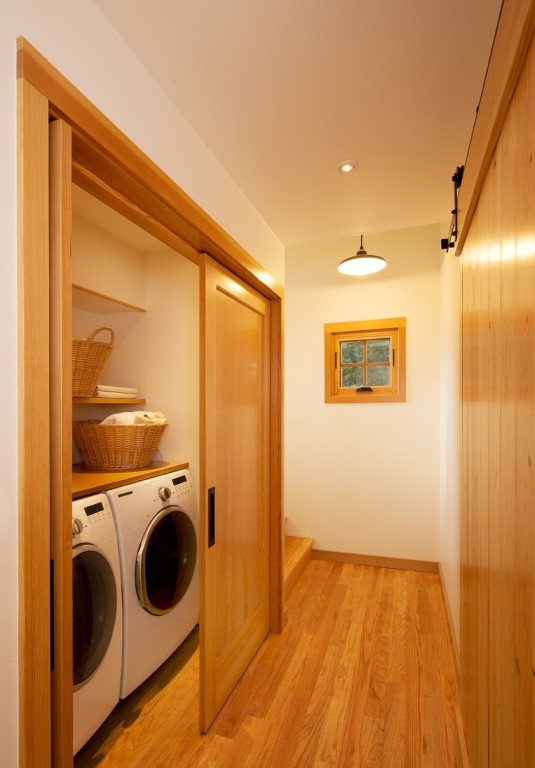 "If you have more space, you can use a darker fixture to draw the eye up and fill it," she says. "Whereas in a small space, the sighting of a light object is a more intimate experience." And since the design team was also concerned about energy usage, they specified all LED-compatible fixtures throughout the space. As LED technology advances, higher efficiency bulbs will still fit the standard sockets.
"With all of the built-ins and exacting use of space, this passive solar addition created a light, open, and beautiful framework for this family while still leaving their spaces compact and modest," Debrae notes. "It's a simple, environmental canvas for their eclectic California lifestyle."
Photos courtesy of Paul Schraub Photography