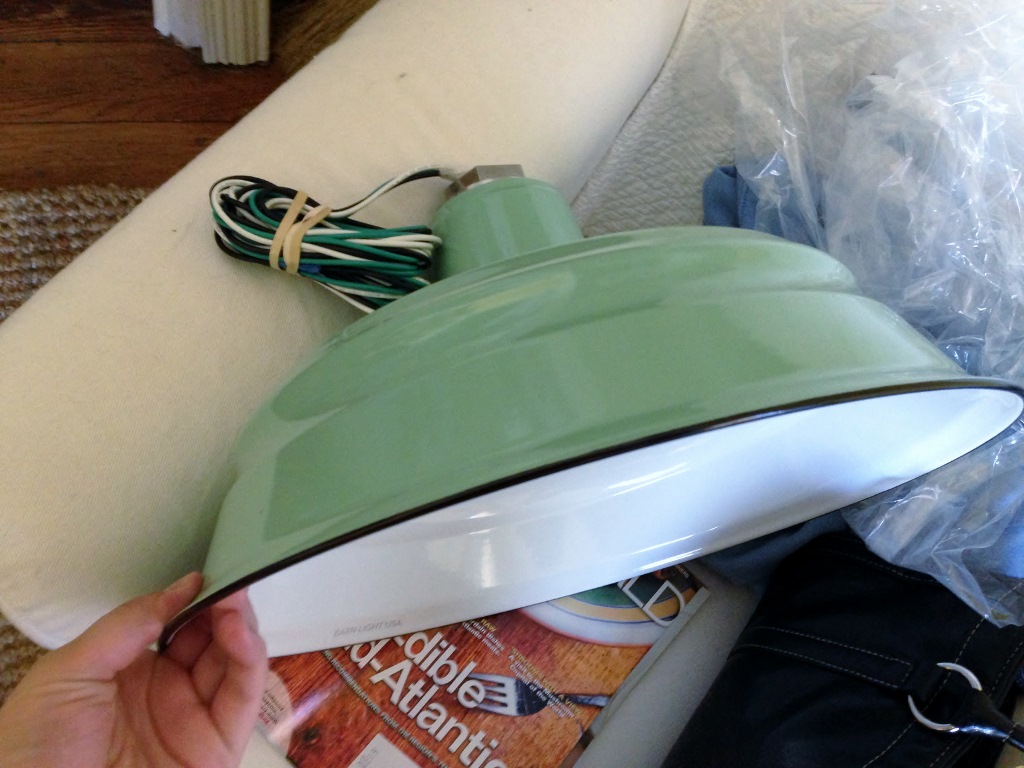 Porcelain Stem Mount Pendant Adds Big Character to Small Apartment
"We recently moved into our apartment and wanted to add some character so that it didn't feel like a cookie cutter apartment," says Sarah of Kennett Square, Pennsylvania. "We have a few pieces in the apartment that have warm, rustic charm so we wanted to build on that with the lighting." Sarah, founder of the service organization Lori's Hands, browsed numerous decorating blogs for inspiration and stumbled upon Barn Light Electric. Her search for the perfect light ended when she found our collection of Benjamin® Stem Mount Lighting.
"We chose an enamel light because we wanted something that would make a statement and fit with our rustic/vintage/casual feel," Sarah says. "And because our apartment is so small, we try to personalize the room in ways that don't clog the space."
Sarah chose the Bomber Stem Mount Pendant with a 15″ shade and a 12″ Galvanized stem. Hand crafted by our own artisans right here in America, these porcelain enamel lights combine the strength of steel and the hardness of glass to create the durability needed for years of use.
Sarah chose the Jadite finish for her new light to contrast with her canary yellow walls adding that she likes for things to mismatch a bit and feel "found" as opposed to looking perfectly coordinated.
"The jadite finish and galvanized stem both look vintage," Sarah notes. "We thought the stem mount looked most authentically like a bomber light, like something you'd find in a barn, a family-owned diner, or in our apartment when it was first built in the 1950s." Porcelain enamel was a popular finish back when Sarah's apartment was under construction yet the process died away when cheaper painting techniques came onto the market. Today, Barn Light Electric is the only company in America manufacturing porcelain enamel lighting which is coveted for its high gloss shine, durability, and low maintenance.
"I like that the light adds a soft, warm glow in the room," Sarah says. "Since we can't keep adding character by adding furniture, adding a light that speaks for itself is a way to turn a necessary and functional piece into something that adds to the beauty of the room."
Photos courtesy of the homeowner