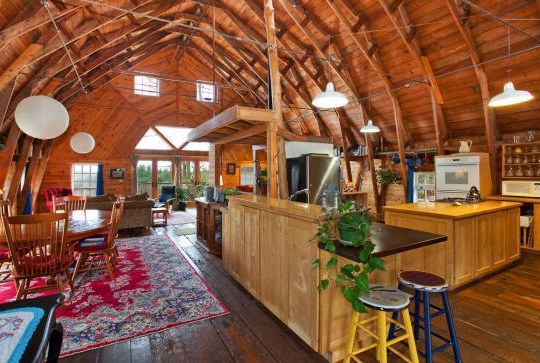 Porcelain RLM Lighting Ideas For Reclaimed Rustic Spaces
Located just West of Seattle sits one of the Puget Sound's larger islands — Bainbridge Island. From here, you can cross the Agate Pass Bridge to the Kitsap Peninsula. Rustic charm and quiet country roads make this a popular destination for busy city dwellers across the bay. Outdoor enthusiasts can enjoy hiking, biking, horse trails, golf, tennis, or simply sit back and relax. With the shedding of fall leaves, visitors are treated to breathtaking panoramic views of the Olympic Mountains in the distance.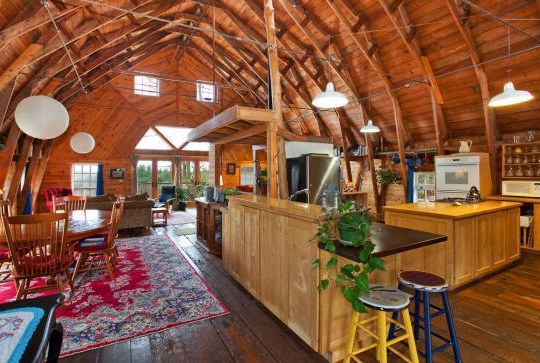 Nestled in the hills sits a 104 year old dairy barn that recently has been converted into a home by a local Seattle architect. Salvaged pieces reincorporated into the space include open roof framing, hay door, trolley, and counter weights, while rolling barn doors serve as shutters to two bedrooms. One original wall even shows a penciled shopping list for 2,100 pounds of seeds. Modern amenities such as dual solar windows, heat, and appliances were subtly incorporated into the rustic space.
When it came to lighting, the architect appropriately chose authentic, reproduction barn- style RLM warehouse shades. Exposed, vaulted ceilings posed a slight problem – the overall height and the inability to wire up into the salvaged roof was solved by linking cable- like wires around the barn, and intertwining cord hung pendants. By bringing the shades lower to the ground, both smaller and less shades could be used.
Similar to the Ivanhoe® Sky Chief from Barn Light Electric, this style of shade could be found in almost every agricultural setting in the mid 1900's. Popular colors included green, white, and occasionally cobalt blue. Unlike many materials used today, the Ivanhoe® Sky Chief is constructed of steel and has a porcelain enamel outer coating. Although they are made to withstand the harshest of climates or commercial environments, production of these extremely durable shades sat idle for more than 50 years. Thanks to Barn Light Electric, many of these popular, reproduction porcelain enamel shades can now be incorporated into your home for many years of enjoyable use.
Top Photo courtesy of Coldwell Banker McKenzie Associates