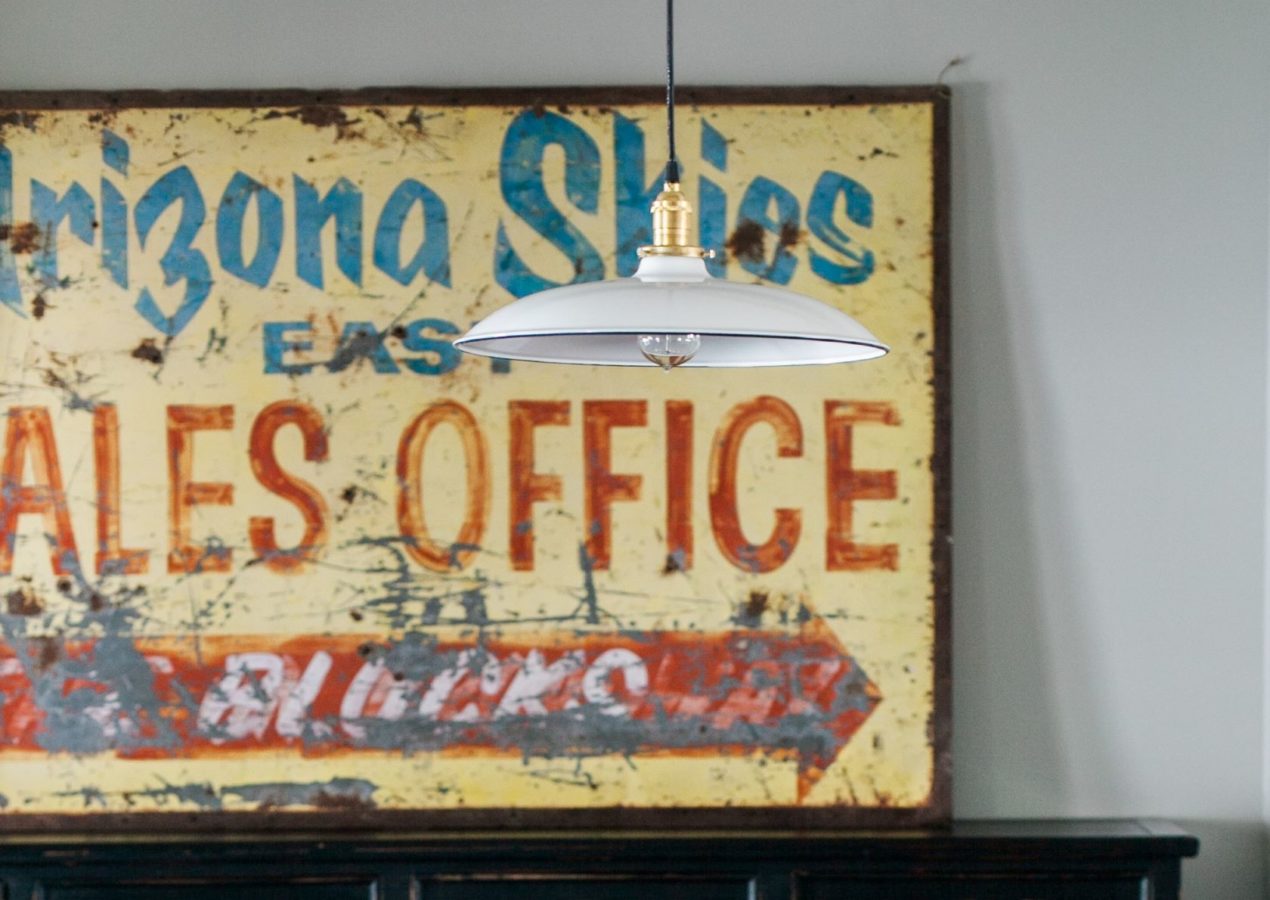 Porcelain Pendant Lighting Hand Crafted in Time-Tested Fashion
We follow a lot of blogs here at Barn Light Electric and one of our favs is Design Sponge. In yesterday's D*S post on pendant lighting, Grace Bonney wrote, "When it comes to making your house feel like a home, the best investment you can make is in pieces that will remain timeless."
We couldn't agree more! Some of the most timeless styles of lighting can be found in our Porcelain Enamel Collection of barn lights. We have taken many of the classic designs from companies like Goodrich®, Ivanhoe®, and Benjamin®, and updated them with a wide range of finish colors and options like cotton cords, wire cages, and cast guards to provide customers with a handcrafted light fixture that will stand the test of time, not only in durability but in style.
In a 1940s-era Goodrich Electric Company catalog that we have on the shelves, we found this description of porcelain enamel lighting…
"The finish consists of three coats of vitreous-fired porcelain enamel. The first is a primary coating which fuses into the metal and becomes an integral part of it to provide complete protection for the underlying surface. Subsequent coats are applied and fired…to provide a high factor of light reflection."

As America's only manufacturer of porcelain enamel lighting, Barn Light Electric is proud to create porcelain lighting in exactly the same way as it was done back in the early 20th century.
Our light shades are hand spun from commercial-grade steel then coated with multiple layers of porcelain enamel glass. The shades are baked in a special porcelain enamel oven that reaches temperatures of 1,600 degrees sealing the glass to the shade for its trademark durable, yet high-gloss finish.
This super shiny finish is not only stylish, it will never fade even when installed outdoors and is easy to maintain with a simple, soap-and-water cleanup. This durability makes porcelain enamel pendants and goosenecks extremely popular in commercial settings like restaurants, retail stores, and offices.
And with the wide array of mounting options including our new cord colors, your porcelain pendant lighting can take on an updated, yet classic look. American made to last for years — only at Barn Light Electric!