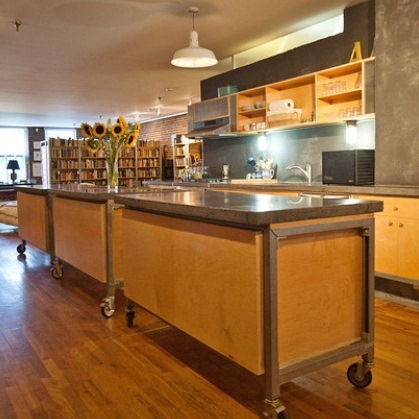 Porcelain Pendant Graces New York Kitchen with 1930s Style
This beautiful New York apartment, which was featured previously as the Wall Street Journal's House of the Day, shows some creative ways to manipulate space in an open floor plan. The bookshelves in the background are on rollers so they can be utilized as moveable, functional walls. Likewise in the adjoining kitchen space, the island is actually three pieces, also on wheels, that can be moved into whatever position suits the chef. This ability to change the layout of the decor gives a space much more flexibility than do fixed walls and furniture — an added bonus when the space is small to start with!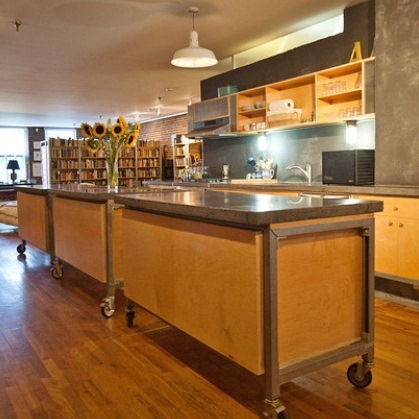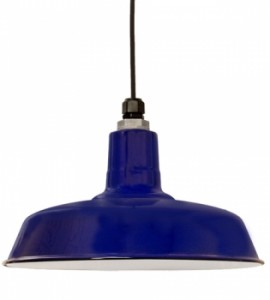 We love the RLM-inspired warehouse shade hanging in the kitchen that gives this upstyle New York pad a touch of down home charm with its original 1930s design. This fixture closely resembles our Ivanhoe® Sky Chief Warehouse Porcelain Pendant, part of our Ivanhoe® Pendant Lighting Collection. This American made pendant is available in five shade sizes, up to a bountiful 20″. The cord for this fixture comes in either standard black or white or perhaps your space begs for a colorful cotton twist cord. The shade is hand spun from commercial grade steel by our own craftsmen who then hand apply the glass enamel coating. This incredibly durable and long-lasting finish comes in nine gorgeous colors including our newest offerings of Cherry Red and Graphite.
The Sky Chief works well in residential settings over kitchen islands, dining room tables, or in work areas. For commercial lighting needs, the Sky Chief will add loads of distinctive style and plenty of light to display tables, cashier stands, and restaurant spaces. And if you like the look of the cord hung pendant, be sure to check out the Sky Chief's newest mounting option — the Sky Chief Studio Light — which combines a suspension cable with a cord for a very contemporary look!
Top photo courtesy of the Wall Street Journal