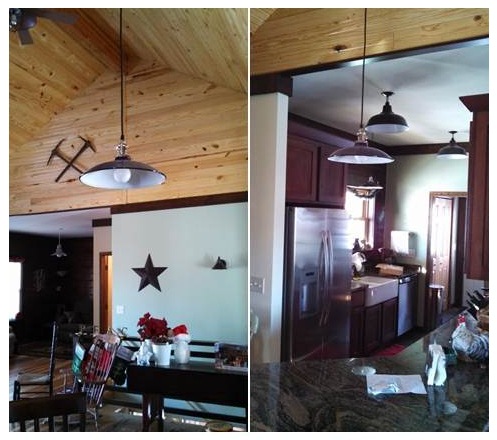 Porcelain Graniteware Pendants Grace a Wisconsin Log Home
Some home styles are very flexible when it comes to dècor and fixtures. You can dress up an older home with sleek finishes and geometric shapes for a more modern touch or use industrial dècor to give a dated space an edgy new look. It all depends on your taste and, of course, your budget. A log home, however, almost begs for a rustic touch. When Colleen started building her log home on the Red Cedar River in Chetek, Wisconsin, she knew barn lighting would come into play.

"We are furnishing in more of a rustic, barn style for our home," Colleen says. "We wanted plenty of light to balance our logs which are finished with a dark stain." After conferring with her electrician, Colleen chose two 12″ Ivanhoe® Sinclair Graniteware Porcelain Pendants, one in Cobalt Blue with White and one in Black with White. Colleen customized her new American-made pendants with a standard black cord and a polished nickel socket with a knob switch.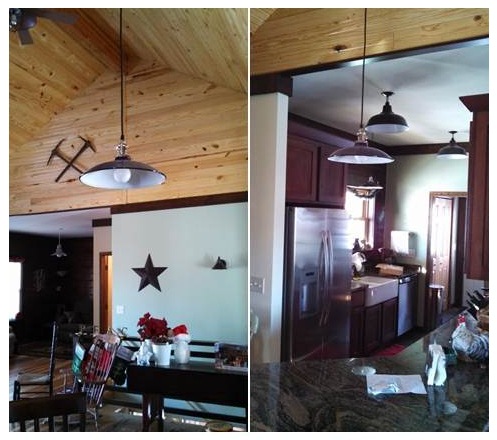 "We love the industrial and vintage feel to the lights and I LOVE the graniteware!" Colleen says. "Someday I'll have a full collection. I also like that they give direct light with a wide, down-facing focus for task work in the kitchen and over our island. I prefer this to a more diffused light." Colleen also chose our very affordable 12″ All Weather Farm Light Stem Mount in a Black finish for the kitchen. This classic RLM-inspired warehouse shade is perfect for kitchens and other damp locations like porches or bathrooms thanks to the sturdy stem mount that protects the wiring.
"Our electrician was instrumental in giving us information on what types of lights to order for lighting excellence in our log cabin," Colleen explains. "The quality and size of the lights from Barn Light Electric fit the bill!"
Photos courtesy of the homeowner