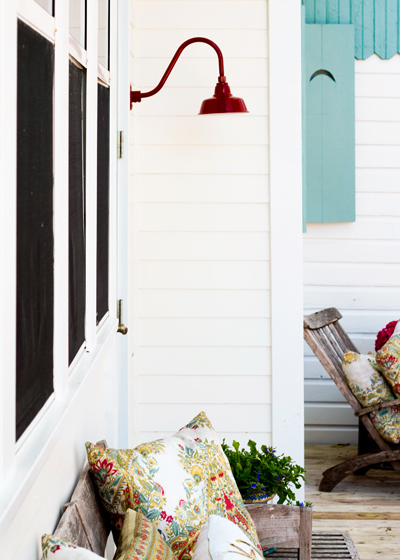 Porcelain Goosenecks Add Stroke of Bold Color to Back Patio
This lovely Florida home is as charming and inviting as the extremely talented interior designer who lives here — one of our favorite friends, Suzanne Guyton. We spent some time in the spring taking photos at Suzanne's home where she has installed some of our most popular porcelain fixtures. We thought we'd share these photos with you as our fabulous Porcelain Blowout Sale is currently underway! You can save 20% on any of our porcelain fixtures from now until 3:00am EST Monday, July 9th. And you can see more of the photos our photographer took at Suzanne's house by visiting Suzanne's webpage.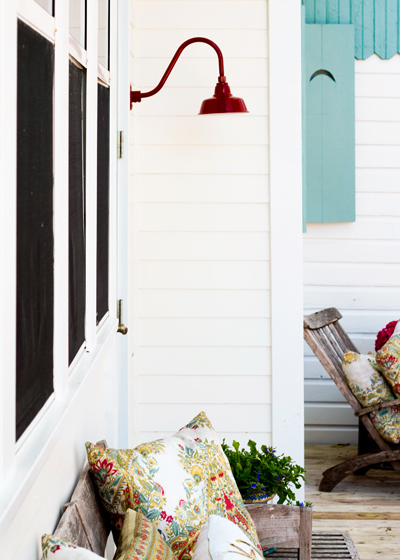 This bright and airy patio exudes the coastal vibe that Suzanne is famous for creating. The turquoise touches evoke a feeling of the sea while the bright colors of the throw pillows add vibrancy and interest to the inviting space. Also adding a splash of color is the Goodrich® Dino 12″ Porcelain Gooseneck Light in a shiny red finish. The Dino is a perfect mid-sized light for patios, garages, porches, or any other exterior space that needs a focused span of light. Eight brilliant glass enamel finish colors are available for this light as well as your choice of gooseneck arm styles. The arm itself can be finished in black, white, or brushed aluminum, or finished to match your shade color.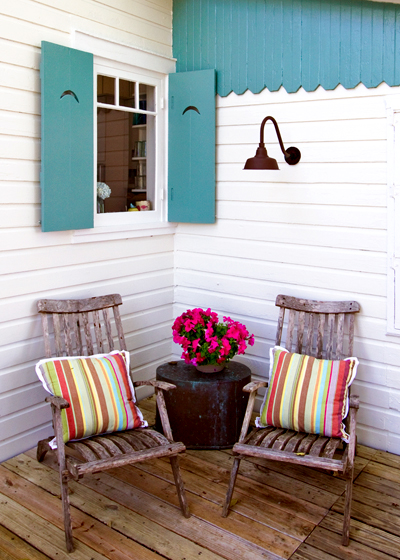 Just around the corner is another cozy seating area that takes advantage of the coastal breezes typical on Merritt Island. This is another Dino 12″ Gooseneck but it is finished in Bronze which goes well with the rustic seating and wood flooring. Similar to the Goodrich® Sky Chief, the Dino takes its cues from traditional RLM-inspired warehouse shades and puts them in a slightly smaller form with a deeper bowl.
Like all our American made porcelain fixtures, the Goodrich™ collection is hand spun from commercial grade steel by our craftsmen who then hand apply the glass enamel coating. This coating is baked on to produce a very durable, long lasting finish that is shiny, easy to clean, and will last a lifetime!