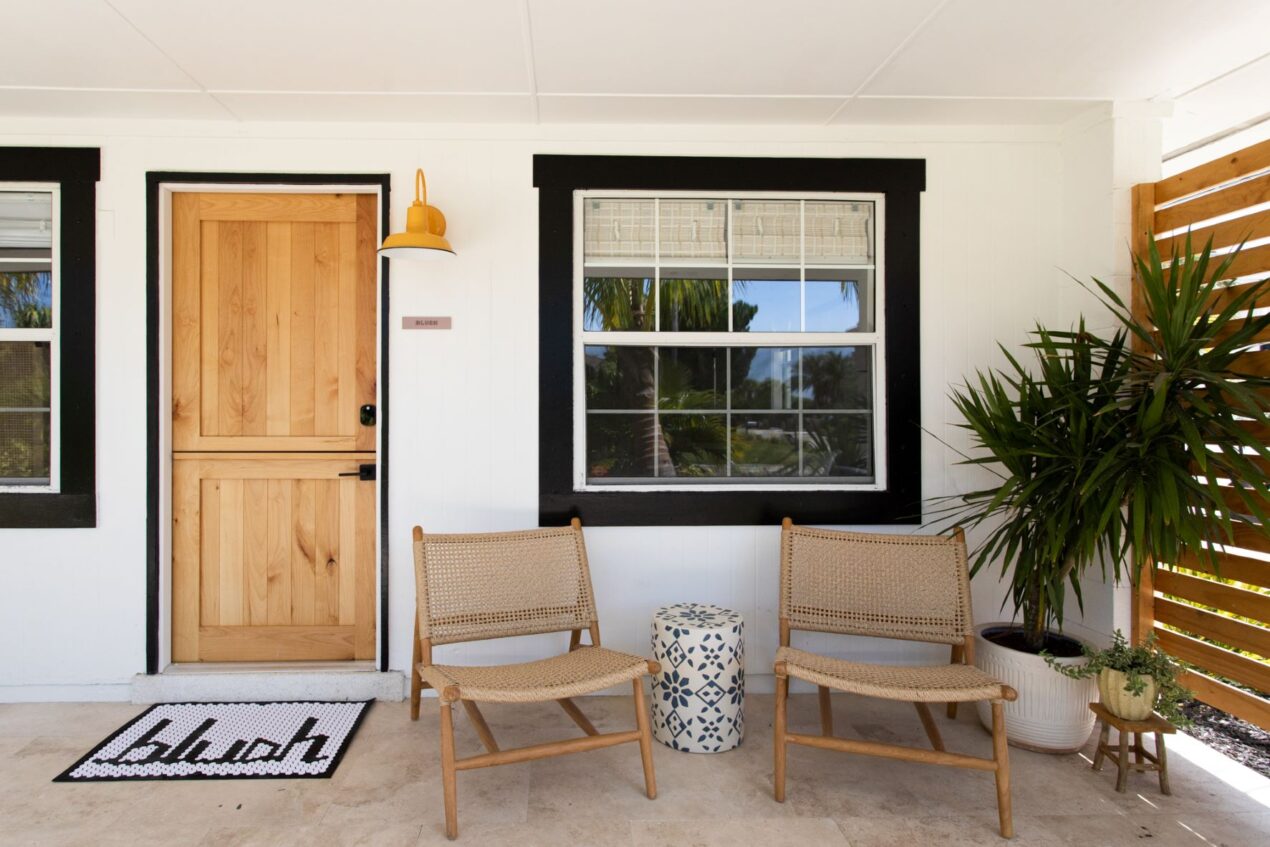 Porcelain Enamel Lights Add Fresh Look, Timeless Style to Florida Inn
If you're already dreaming of a beach getaway this winter, look no further than picturesque Anna Maria Island on Florida's Gulf Coast. Home to white sandy beaches, the blue-green waters of the Gulf of Mexico, plus a quaint business district, this coastal town is a slice of paradise.
When Ashley and her husband Dino explored Anna Maria Island earlier this year, they discovered a run-down, four-unit vacation rental in desperate need of a renovation. As the creative design team behind Arrows and Bow, the couple purchased the property and began an extensive restoration to create Joie Inn.
"We really wanted to keep the integrity of the building and the charm that is Anna Maria Island," Ashley says. "It has a very sweet 'old Florida' feel so luckily we didn't need to tear down the buildings." Instead, they gutted the interior spaces and brought them back to life while completing a full exterior remodel including fresh paint, improved landscaping, a pool, and new lighting.
"The island is filled with colorful homes, so I wanted to give a nod to that, but also stay within who I am as a designer," Ashley explains. "I love black and white and figured it would be the perfect foundation to add pops of color throughout." Ashley's friend, Jess, a customer profiled in this blog post, recommended Barn Light Electric for new lighting.
"We really wanted lighting that was high quality and would withstand time and weather," Ashley notes. "I love the classic look of barn lights and love that I could customize the color to exactly what I wanted for Joie Inn." Ashley chose The Original™ Wall Sconce to highlight the doorways, porches, and other exterior spaces of the inn. She customized these handcrafted sconces with 12″ shades and a porcelain enamel Yellow finish.
Handspun from commercial-grade steel, porcelain lighting is coated with multiple layers of porcelain enamel glass. The shades are fired in a high-temperature oven sealing the glass to the shade resulting in a high-gloss finish that will never fade. Porcelain enamel is one of the most durable finishes on the market today.
"Each unit at our inn represents a different color. I thought it would be fun to bring some of the color we feature inside the rooms to the outside," Ashley says. "The lights have such a timeless look that I knew would always be in style."
Inspired by early 20th century vintage lighting, Barn Light takes classic RLM designs and updates them with modern finish colors and options such as guard and glass, a variety of mountings, and LED.
"I love the way they look especially when turned on," Ashley says. "I added a warm bulb so they are amazing at night. They have such a happy look to them!"
Photos courtesy of Joie Inn and @ariellevey