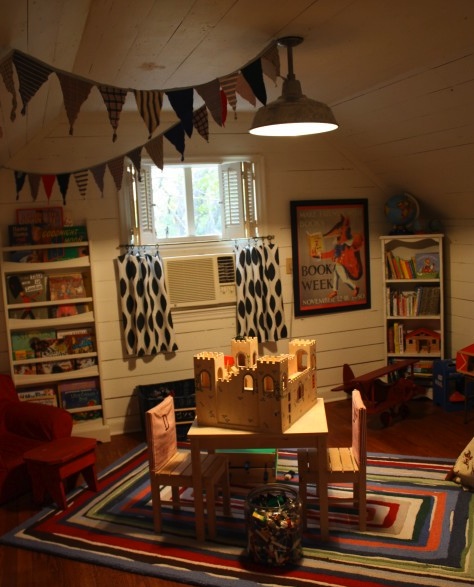 Pendant Lighting Adds to the Charm of a Retro Style Playroom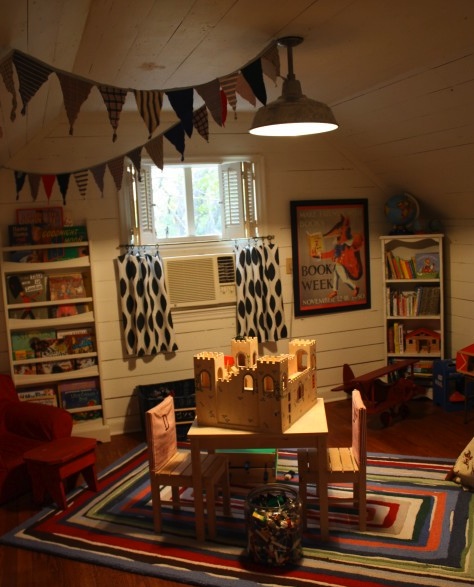 When Holly Mathis decided to transform a former spare bedroom into an upstairs playroom for her two sons, she included a Galvanized All Weather Farm Light Stem Mount from Barn Light Electric Co.®.

For homeowners in search a of a smaller scale, yet attractive barn lights, the All Weather Farm Light Stem Mount is the ideal low-cost choice. It starts at $99 and comes with a 12″ stem mount. It's available in four color options: Black, White, Dark Green, and Galvanized. The Galvanized finish gives this light an appearance that's versatile enough for indoor or outdoor use. Today, these styles are commonly found in kitchens, bathrooms, and laundry rooms – as well as outdoor or commercial areas such as workshops and garages.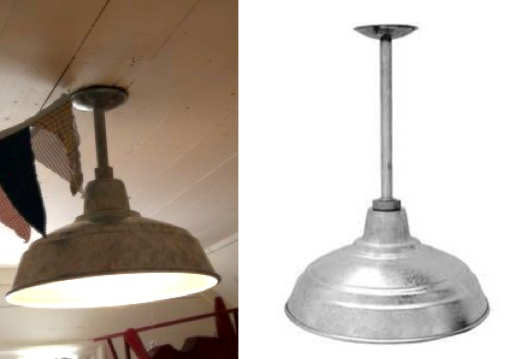 Holly added the All Weather Farm Light Stem Mount light to a retro style playroom with creamy white wood walls, a striped rug, and chipper fabric curtains. Vintage clipboards line the wall with various pieces of her artwork.
…And the light is from the FAB wonderful lighting company, Barn Light Electric Co.® …they are so wonderful there and knowledgeable..I seriously could have half a dozen of their lights in my house. I love the fluted one and the schoolhouse of course! Don't be surprised if you see me using more of their stuff!
Earlier this year, Holly devoted an entire blog post dedicated our company and a few of her favorite Gooseneck Lights: The Artesia Warehouse Shade and the Barn Light Aztec Sconce. The Aztec puts an imaginative twist on the larger Radial Wave Shade that so many have raved about. Both have also been featured in Country Living's November 2009 portion titled 'Instant Makeover' – where a bland front porch gets a colorful, holiday makeover.
Holly Mathis is a stay-at-home mom (and wife) in Texas who raises two boys in their 1941 cottage. Her home was featured in the June 2005 edition of Better Homes & Gardens. For more information about Holly Mathis Interiors, visit her blog at hollymathisinteriors.com.