Outdoor Lanterns That Can Light Up Rustic Cabins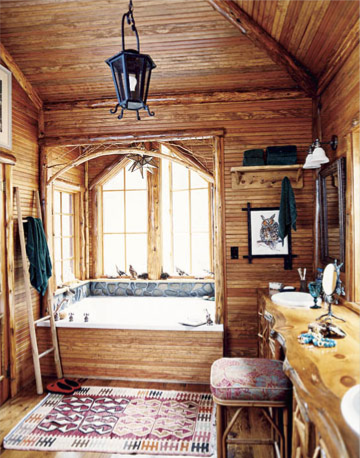 Whether Spring or Winter, mountainous and lakeside cabins are wonderful for vacationing with the entire family. Such fantastic rustic cabins come in all forms – small and quaint to expansive and upscale. While size plays a major differing factor, many do share plenty of similar traits; they use plenty of natural elements: wooden beams, boulders or stonework and organic, Southwest patterns.

It took me a moment to realize that this was actually a bathroom, but once my eyes discovered that the wood counter top was disguising dual sinks and that the window area did indeed house a jacuzzi tub, I was pleasantly surprised. Many of us aren't accustomed to seeing such rustic, woodsy spaces within House Beautiful Magazine, but clearly this bathroom was worthy enough to make their 40+ list of favorite bathroom pictures – and ours too!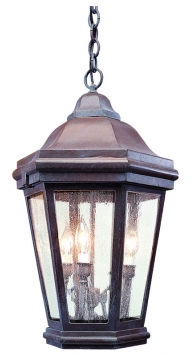 Naturally our favorite feature is always the lighting choices. Cabin homeowners and designers are drawn to wrought iron pieces or those that resemble lanterns. The metal elements are a nice break from the majority of wood elements used. Such designs can be found online with us too. Many wouldn't know it, but we do offer a variety of outdoor lanterns that blend with a number of design styles.
A wonderful example is our Verona Exterior Pendant. While it features a bronze metal exterior and adjustable chain for high ceilings, the central lantern-like design gives of such a warm, "welcome home" feeling no matter where you hang it. While the fireplace may keep you warm on a cold winter's day, the glow from a barn lantern can bring a heart-felt warmth year round!
The Verona is a fairly medium sized lantern, but similar styles are offered in larger or smaller options as well. Large lanterns might look beautiful in a grand entryway, while small styles can be delicately hung down hallways and corridors.