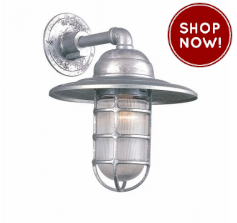 Modern & Rustic Barn Sconces Light Up Winter Homes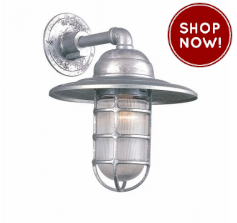 With the cold winter months here, many homeowners shift their home renovation plans indoors by incorporating lighting like our Rustic Barn Sconces.
Our Rustic Sconces were inspired by the Atomic Era and are known by their distinctly modern cast guard and glass design. Bestselling rustic sconces include the Atomic Cast Guard CGU Sconce. When paired with a galvanized metal finish, this Atomic sconce takes on a whole new life in industrial, farmhouse or contemporary spaces.

At Barn Light Electric Co.®, our collection of wall sconces capture styles from every era. For example, our Modern Wall Sconces feature Art Deco and Postmodern influenced designs. However, if you're searching for a sconce with early 1900's Victorian, Colonial, Tudor or Bungalow style, you'll find the perfect match within our Vintage Wall Sconces. Popular sconces from this vintage category include the Magnolia Wall Sconce, which has a 10″ x 8″ shade and boasts four traditional finishes that compliment most Victorian and Art Nouveau homes.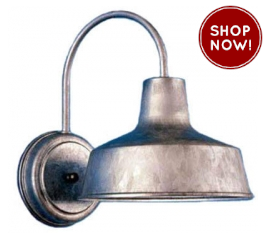 Barn Wall Sconces include the Austin Sconce. The Austin's small-scale warehouse shade design was inspired by larger, RLM warehouse shades. These sconces are designed with smaller features to coordinate perfectly with our larger gooseneck lights and pendants. These charming American made wall sconces represent the true, classic warehouse shade styles of the 1940's.
For homes with sleek, contemporary designs, we also carry a wide selection of Modern Wall Sconces include the ultra trendy Danielle Shield ADA Sconce that was featured on DIY Network's Garage Mahal. It was placed within the converted workout room for daytime soap stars Scott Bailey and his fiance Adrienne Frantz. The Danielle Shield's shiny, reflective, polished nickel finish makes it an ideal fixture to illuminate hallways, bedroom side tables, or upscale office lobbies.
Wherever your home remodel project leads you this season, with Barn Light Electric Co.® you can find one of the largest collections of American made lighting products online! Shop hundreds of lighting styles ranging from gooseneck lights, to pendants, porcelain enamel and vintage industrial furniture!