Outdoor Gooseneck Lighting for Holiday Entertaining
Today we're reaching out to you folks who won't have yards covered in snow. The only icicles you know of are the string light versions seen on your neighbor's roof at Christmastime. Just because you don't have that white powdery stuff covering your landscaping doesn't mean that you can't enjoy the outdoors during the winter months. As a matter of fact, hanging out on the porch can be great when the mercury is low. Throw in a fire pit with some hot cocoa, and your outdoor entertaining will trump any summertime barbeque.

Since the sun sets at about 5:00 now, it leaves us in the dark well before dinnertime. Sure, you could rely solely on that blazing fire for lighting and warmth, but you could also make a positive decision to add in a few gooseneck barn lights to your exterior space.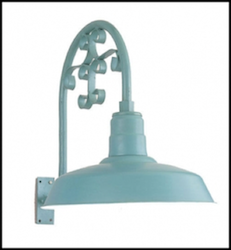 The Braddock Warehouse Shade is the same style as the Original™ Barn Light, but is a highly decorated gooseneck light. Scrolling features on the curve of the neck add a period style, Victorian look to an otherwise industrial RLM barn light. Choose a finish similar to the colors found in nature, like Rosewood or French Green, and you're well on your way to wintertime entertaining heaven.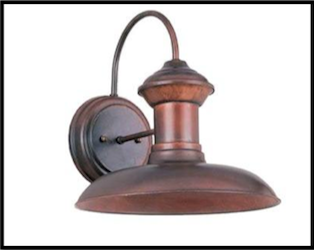 If by chance some of your outdoor junction boxes won't hold such a large warehouse shade, our recommendation would be to use the Reno Wall Sconce. Its shallow shade lets light escape freely downward and out, as opposed to a focused area like a deeper bowl would permit. The Reno is also available in the same finish options as the Braddock and many of our other American made barn lights. Any one of our finishes like black or galvanized metal could tie in perfectly with a plethora of outdoor areas. Together, these two will ultimately allow for a streamlined, uninterrupted look in regards to your outdoor gooseneck lighting.