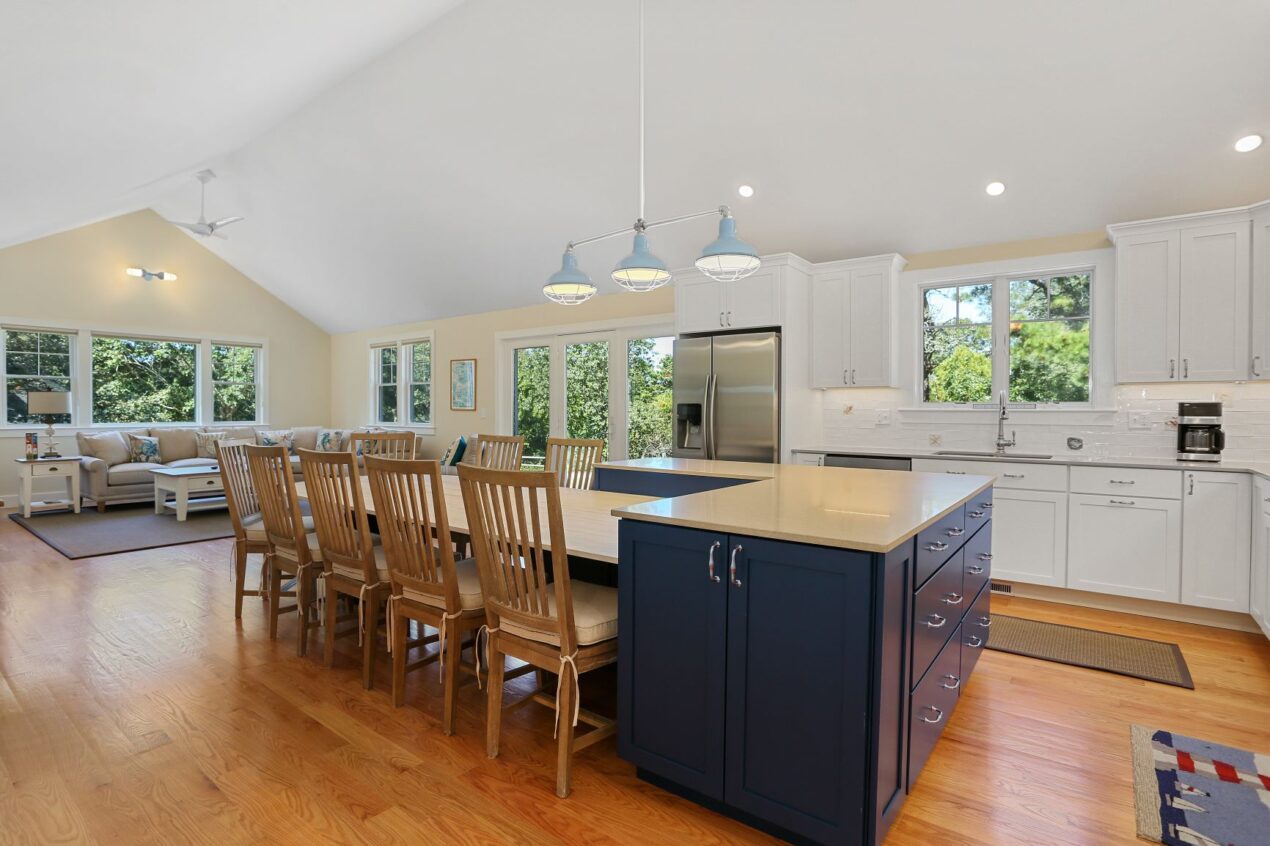 Nautical Wall Sconces, Barn Chandelier for Cape Cod Beach Home
Who's dreaming of summer at the beach already? For one family on Cape Cod, summer can't come soon enough. A recent tear-down renovation of their summer home on the hook-shaped peninsula of Massachusetts created an inviting place to relax and enjoy the nearby Cape Cod National Seashore.
The renovation effort was led by Tim Klink of Coastal Custom Builders who worked with the homeowner and his design team to select colors, materials, and fixtures that would be maintenance friendly and bring a light and airy feel to the home.
"We were going for a summer cottage look with a beachy feel," Tim says. Wood floors, plenty of windows, and a light paint scheme laid the groundwork. As he searched for appropriate lighting to fit the design plan, Tim wanted fixtures with plenty of color and customizing options. Those requirements led him to Barn Light Electric.
"Barn Light had the best selection and styles for the price point," he notes. For the kitchen, the homeowner selected the Dino 3-Light Stem Mount Pendant to serve as a focal point over the combined island and dining space.
This bold chandelier features handspun, 12″ RLM shades finished in a Delphite Blue porcelain enamel finish. Optional wire cages were added during the customizing process to give a hint of industrial style.
To bookend this large open space, the homeowner chose to install the Atomic Topless LED Double Industrial Guard Sconce over the range hood in the kitchen area and over the windows in the living space.
These rugged wall lights are customized with the same porcelain Delphite Blue finish, wire guards, and frosted glass. Taking inspiration from early 20th-century ship lights, these wall sconces lend the perfect nautical touch to this coastal renovation.
In a nearby bathroom, the homeowner chose to mimic the look of the kitchen chandelier with the Austin Triple Straight Arm Vanity Light. Sporting a Royal Blue powder coat finish and contrasting Galvanized wire cages, this vanity light brings a pop of deep color to the pale blue walls.
In each space, the American-made lighting chosen by the homeowner provides the finishing touch on this gorgeous renovation.
"The lights are a focal point," Tim says, "and a definite topic of discussion."