Modern Lighting For Urban Inspired Spaces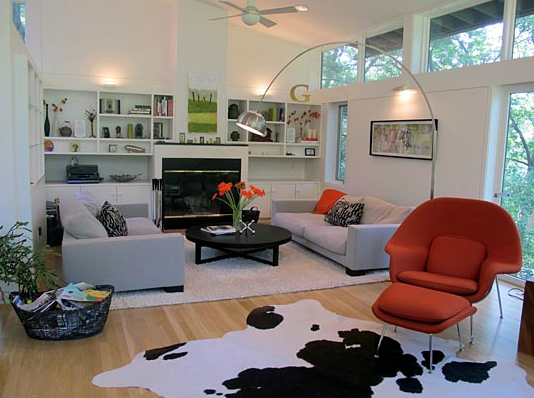 Photo courtesy of Apartment Therapy
Our blog photo today comes from one of the most popular design blogs on the web today – Apartment Therapy. Whether you have an apartment, cottage, loft, or home, Apartment Therapy provides tips, tricks, advice, and inspiration to all its readers.

By providing a House Tour of a 3,000 square foot Massachusetts home, we stumbled across this photo capturing two similar Barn Light Electric products from our Modern Floor Lamp and Modern Ceiling Fans categories. Not everyone knows that Barn Light Electric carries more than, well, barn lighting. We carry a variety of products ranging from Victorian and Arts & Crafts, to Mid Century and Modern designs. The photo today brings together both city and rural design, while staying true to the original 1950's Peacock Farms roots, by creating a livable space, accented with eclectic Mid Century findings.
Although made of solid metal materials, the Stratos Ceiling Fan appears to lightly float near the open, sloped ceiling above. Without intruding, its sleek aluminum appearance blends in with dual modern sofas below and can quietly provide air circulation above when needed. Ceiling fans were not widely used in the 1950's, but in 1986, the Stratos Ceiling Fan was designed and made of a solid, one piece, die-cast rotor. Today, this look remains the signature element of nearly all modern fan designs. Available in multiple blade colors and sizes, the Stratos Ceiling Fan also can be customized with light kits and remote controls for high ceilings.
The iconic 1960's style floor lamp will arc to almost 94 inches overhead or can be retracted back to almost 78 inches. The Satin Nickel shade and stem are supported by a solid 15 inch white marble base, and whereas some table lamps can be bulky and in the way, the Bo 60's Floor Arc Lamp has a slender neck that gracefully drapes desired lighting over seating areas practically unannounced. Today, prices for these lamps in their original condition can fetch almost $2,000 each, but with Barn Light Electric, you can bring the Bo 60's Floor Arc Lamp into your dwelling for a fraction of the cost.