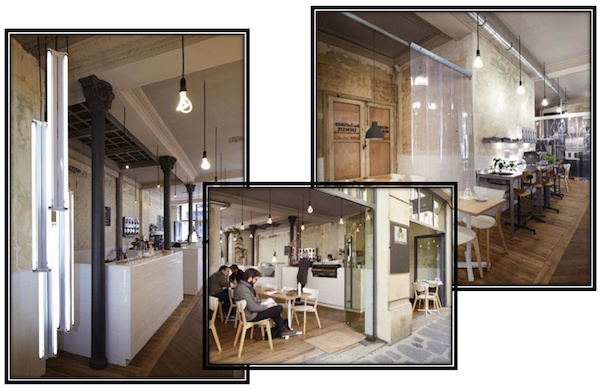 Minimalist Pendant Lamps in a French Industrial Café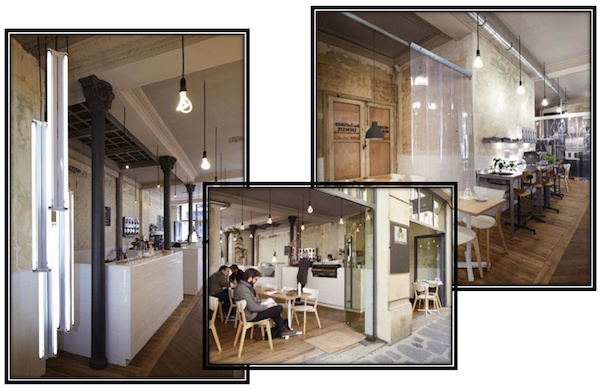 Even the thought of Paris evokes images of romance. It's all over the city – in the elaborate architecture, cozy sidewalk cafés and probably their most famous monument in France, the Eiffel Tower. You may even think of the nearby Versailles, a palace covered in luxury and glamor, however, this isn't what the elegant and bustling city is all about. Tucked away behind vintage facades and up narrow alley staircases are charming lofts with an industrial look.

These apartment homes have retained their allure over centuries, as well as inspired some from around the world to make Paris into a second home. Some however, haven't converted these areas into homes, but into cafés. The Café Coutume is a product of Haussmann's Renovation of Paris, which strives to make the city more efficient in design. The industrial atmosphere of the café is in part due to the raw concrete walls, minimalist furniture and exposed modern ductwork. The Café Coutume has attracted visitors from far and wide who are in search for a taste of the French lifestyle.
Achieving this look in your home doesn't require selling your home and moving into a renovated factory – or traveling to France for that matter. Take a closer look at the Café Coutume and browse through our Vintage Industrial Furniture collection for rugged designs with a minimalist approach. Keep your walls and other textiles neutral and white with a few galvanized touches. While all this is key in developing a factory-inspired space, it won't work if you don't have the proper lighting.

The Café Coutume suspended simple, bare bulb pendant lights throughout. Our Edison bulbs will be perfect with styles like the Minimalist Raw Brass Pendant or the Indy Industrial Pendant (shown on the right). If you're looking more to the eco-friendly side of things, try a screw in compact fluorescent light bulb. They have a similar look to those shown in the cafe, but can last up to 5 years and save on electrical costs.
Top Photos Courtesy of Remodelista