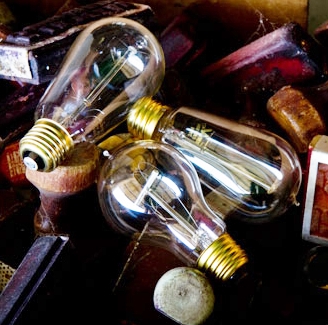 Lighting Lingo: Light Bulb Choices, Changes, and Challenges
When Congress passed the Energy Independence Act in 2007, its purpose was to encourage consumers to switch over to more energy-efficient light bulbs. At the time, compact fluorescents, called CFLs, and LED light bulbs were considerably more expensive to buy than standard incandescent, but in recent years, costs have come down. Consumers are realizing the savings on their electric bill and these savings can be substantial in commercial spaces.
With new bulbs arriving on the shelves daily, we want to shine some light on what's available to help you pick the best bulb for your space!
Standard incandescents are being replaced because they tend to be less efficient and heat up when turned on which makes your room warmer. Not a bad idea in winter, but it takes more energy to cool a room made toasty by light bulbs. LED bulbs and CFLs offer attractive savings both in energy and in your wallet. Consider this question — how many light bulbs do you need for 50,000 hours of use? According to Earth Easy, you would need 42 standard incandescent bulbs, five CFLs, or only one LED.
LEDs are durable as they have no filament to break, keep their cool, and last up to 10 times as long as CFLs. Barn Light Electric offers a complete collection of LED Lighting including barn lighting, porcelain enamel, and rustic cast guard-and-glass lighting. These fixtures have a fully integrated LED module incorporated into the design to maximize its lifespan.
In turn, CFLs provide just as much light as incandescents yet use only 1/3 of the energy and last much longer. And while the distinctive twirly shape of the CFL bulb didn't attract too many fans at first, they now come in a variety of shapes, some looking much like their incandescent ancestors, while others, like Tala Lamps, are downright stylish. Perfect for the popular bare bulb look!
For those who love vintage lighting, the nostalgic Edison Style Light Bulb has a definite turn-of-the-century feel. Some of these bulbs are tall and thin while other styles have a rounder, smaller shape. They feature a classic, exposed squirrel cage filament not found with CFLs or incandescents. These bulbs give off a softer glow than incandescents, CFLs, or LED bulbs and are best used for accent lighting, not task lighting.
Don't forget to consider the color temperature of a new bulb. Measured in degrees Kelvin, lower numbers ranging from 2,700-3,000 will produce warm, yellowish red tones while higher numbers in excess of 5,000 will give cooler white and bluish tones.
If you've ever wondered how your home might benefit from switching over to higher efficiency bulbs, check out this cool Light Bulb Savings Calculator from National Geographic. The first screen asks for the number of bulbs in use in your home, then you input how many are incandescent, CFL, or LED. The last screen gives you some pretty eye-opening information based on your responses!