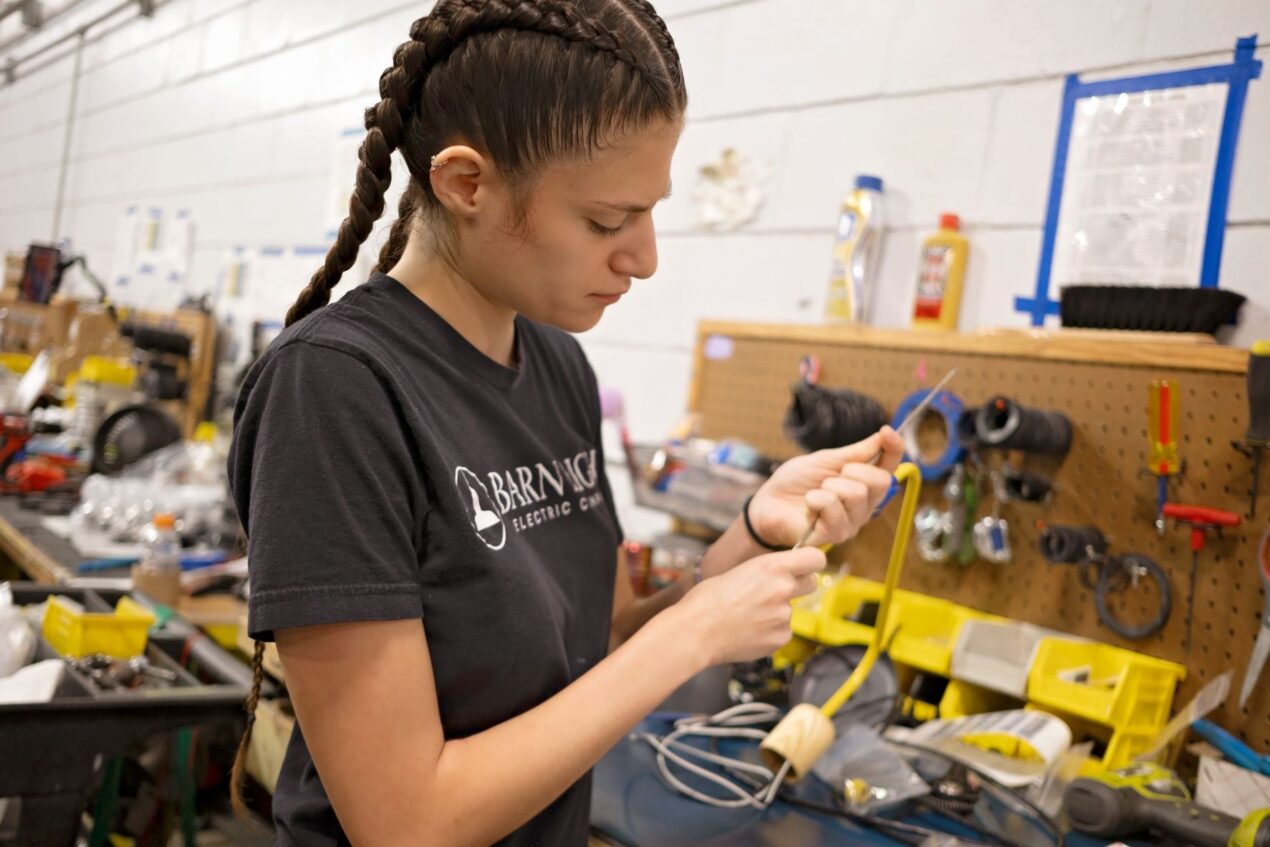 Lighting Assembler Brings Joy to the Task of Putting it All Together
There's no such thing as a bad day in the assembly department at Barn Light Electric. Raven, one of 10 members on the assembly team, makes certain of that. With her ready smile and infectious laugh, Raven helps create a fun and supportive work environment for everyone.
"Each day starts by saying good morning and asking how everyone is doing," Raven says. "I try my best to remind everyone we are going to have positive vibes and that we work together as a team! I always try to keep their spirits high throughout the day no matter what is going on around us."
Raven started working for Barn Light in May of 2020 and serves as an assembler and trainer. Her days are spent helping train people on different fixture builds, working with team members to get lights built for specific orders, and helping out the team lead when needed.
"I love that my job is hands on and a complete 180 from my previous jobs. I never thought I would work in manufacturing of any kind, but here I am loving it!" she notes. "I truly appreciate the people I work with. We work really hard as a team, and I appreciate that kind of work environment."
A native of Virginia, Raven moved to Florida during her elementary school years. She never claimed to be a true Floridian until she started complaining about the cold weather when the temperatures dip into the 50s.
According to Rob, the assembly lead, Raven is able to fix problems that crop up by being extremely knowledgeable of her job.
"She listens to instructions to be able to attack the work load expectations daily," Rob notes, "and also takes control in problem solving and troubleshooting."
"I like that I am a trainer and get to interact with not only my department but with others throughout the day," Raven explains. "I try to create an environment where they can always come to me for help!" She admits that the only difficult aspect of her job is having the physical strength to put larger parts together.
"That just means I need to eat my Wheaties more often!" she says. When she's not putting together Barn Light's handcrafted lights, Raven enjoys shooting pool, reading, attending concerts, hanging out with her family, and watching Friends on repeat.
"I'm usually a pretty busy person," she says, "but I wouldn't change a thing."