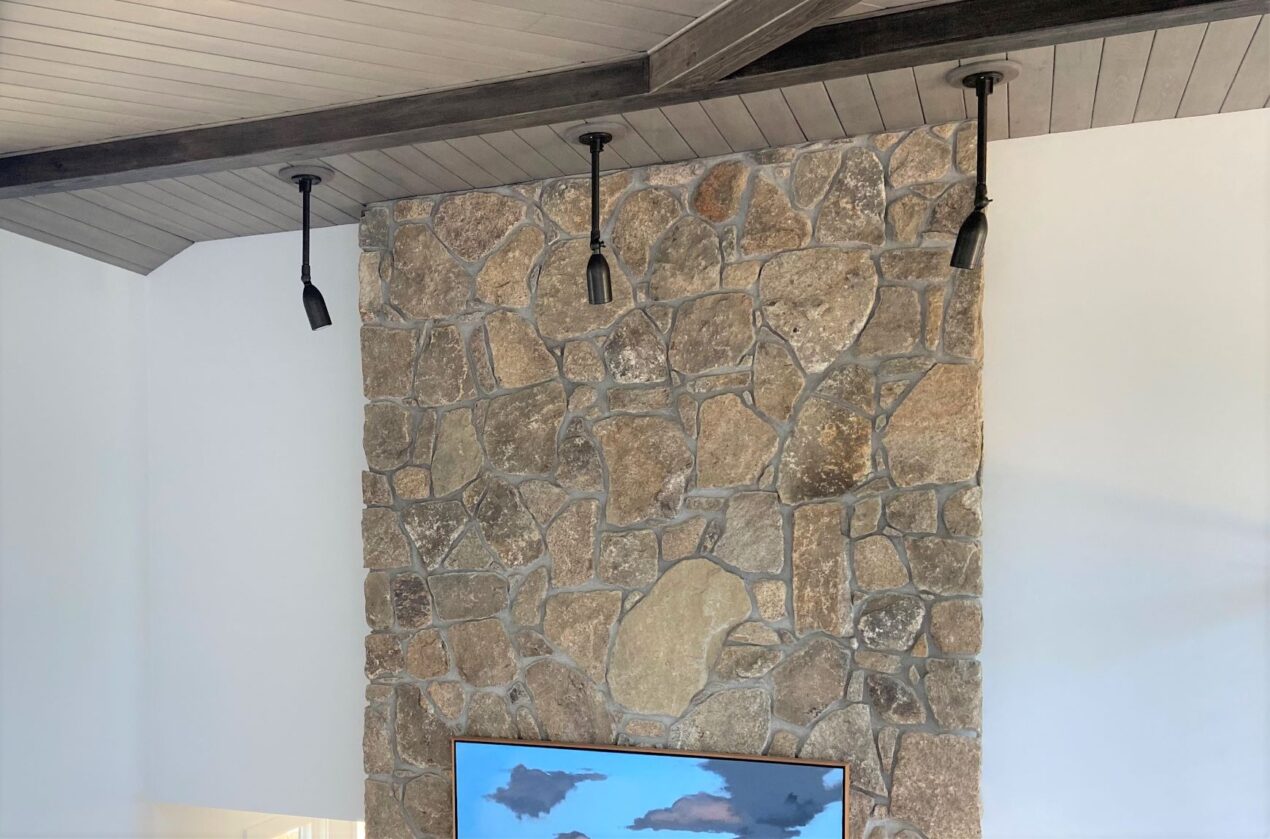 LED Sign Lights Solve Renovation Challenges
Nothing gets designer Annie Parr of Island Interiors more excited than talking about her latest project on Martha's Vineyard. She describes the complete remodel and reinvention of this dated home as French-industrial-hits-the-beach.
"The home is in Chilmark, Massachusetts, and it's eclectic, modern, rustic, and definitely industrial in a sexy, new way!" Annie says. "And killer water views!"
In the living room, Annie faced the challenge of a very high ceiling with recessed lights that did little to highlight the stunning stone fireplace.
"We needed to marry form and function with a low-profile fixture that dropped from the ceiling and had an industrial look," she explains. "Sign lights solved this huge challenge."
A long-time fan of Barn Light Electric, Annie knew where to turn for easy-to-customize fixtures to suit this space. She selected the Bullet Stem Mount LED Sign Light for its industrial feel as well as its flexibility and personality.
"I needed the fixtures to be customizable so that we could create a unique finished product that also solved some lighting problems," she notes. "I love how the drop helps the lights relate more to the stone than the vaulted ceiling in this room."
Annie customized these sign lights with a Bronze finish, 12″ stem, and heavy duty canopy. She also chose the 1600 lumens, 3000K color temperature, and frosted glass for the lens. For two of the lights, Annie chose the 50-degree narrow flood while the third pendant has a 75-degree wide flood.
"I changed the degree of the floods so that the center fixture was stronger and covered a larger area of the fireplace and artwork," she explains. "The center fixture is flanked by the other two lights which have the narrower degree flood. This achieves a more focused source of light without it bleeding off the fireplace stone."
Annie chose the Bronze finish to complement the surrounding metal, wood, and glass elements in the room, and the frosted lens keeps the lights from being too glaring. The decision to go with LED was cost and maintenance driven — no extension ladders needed every six months to change bulbs!
"We needed the 3000K color temperature so that the light appears clear and bright and doesn't cast any amber tones onto the artwork," she explains. "This was also the best choice to highlight the stones. I didn't want to dull down any of the natural, subtle colors. A warmer temperature would have muddied the colors of the stones while a brighter light would have made the stone wall appear too cold in the room."
The renovation of this large family home presented challenges in other rooms as well. Check back on Wednesday as we share how Annie created not a laundry room, but a laundry center inside a turret, for this 6-bedroom home!
Photos courtesy of Island Interiors