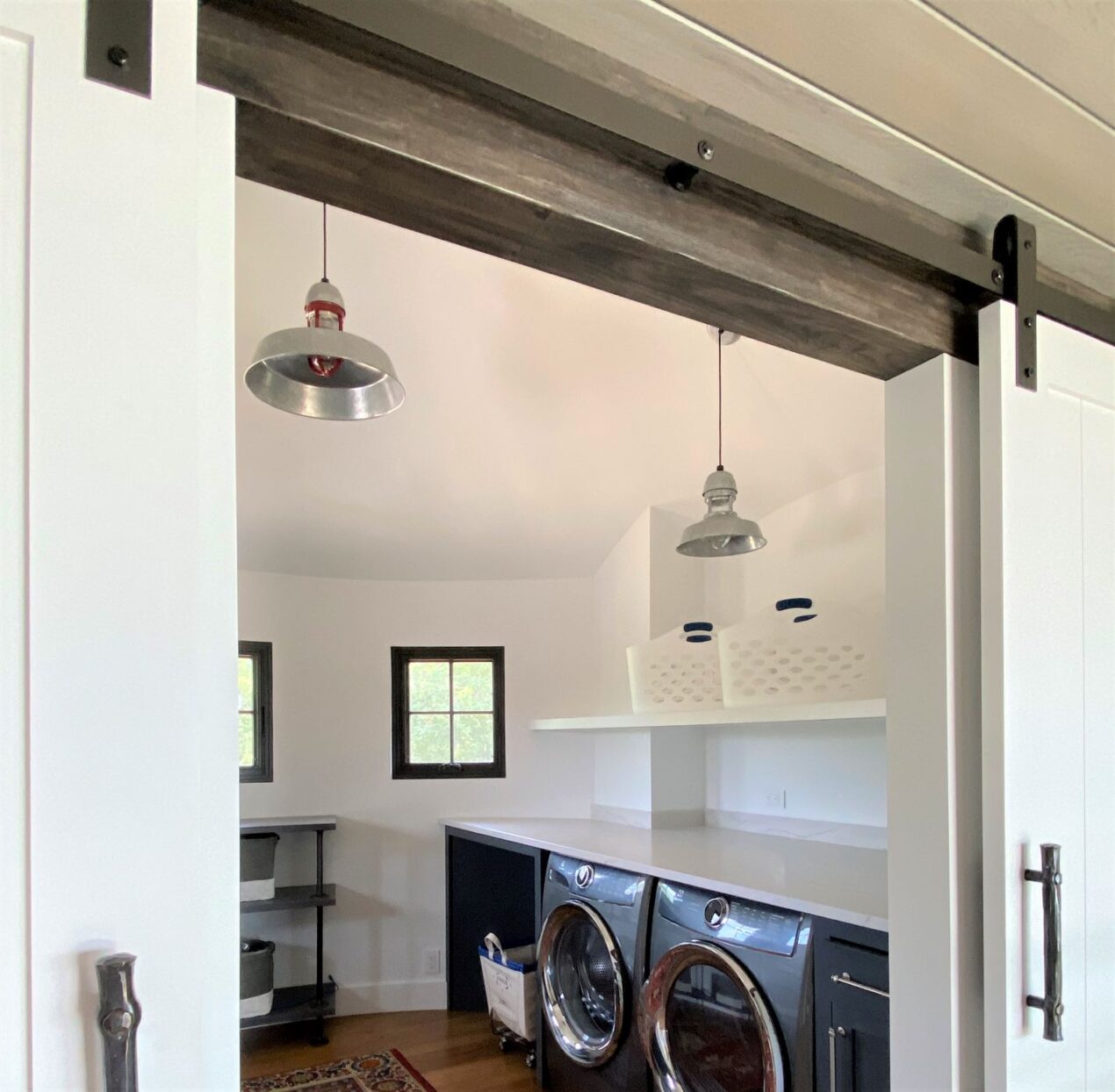 Industrial LED Pendants Offer Both Fun and Function in New Laundry Room
If you missed Monday's post, be sure to click over to see how Annie Parr of Island Interiors used sleek sign lights to combat a high ceiling and spotlight a gorgeous stone fireplace.
Today, we're continuing our tour of this six-bedroom home on Martha's Vineyard. Annie describes the complete reinvention of the style and design of the home as "eclectic, modern, rustic, and definitely industrial in a sexy, new way!"
When considering some of the more dated elements of the home, Annie was inspired with a new vision.
"There were two turrets that were difficult to work around, and I reinvented them to appear as silos of a barn," Annie says. "I relocated the laundry room to one of the silos which has a curved wall on one side." She then designed a curved industrial shelving unit from reclaimed oak floor boards and plumber's pipe.
To brighten the new space, Annie turned to one of her favorite sources for lighting — Barn Light Electric.
"I been using Barn Light for so many years, I can't even remember how I was first introduced to the company," she notes. "All I can say is how grateful I am!" Annie clicked over to the Queensland Collection and selected the Sydney LED Pendant Light for its utilitarian/industrial touch.
Annie was drawn to the Sydney's no-nonsense look and for the ability to customize each of the two pendants to add personality to the space.
"The pendant with the 18″ shade is mounted in the center of the room which has a domed ceiling," Annie explains. "The smaller 12″ shade is more like task lighting at a workstation and is located above the washer-and-dryer folding counter."
Annie customized both pendants with a Galvanized finish, ribbed glass, and black-and-brown cloth cords. She also chose the 3000K neutral white color temperature.
"I was looking to add a little extra detail to the basic design of this fixture," she says. "And the ribbed glass is my go-to when I use this fixture. It diffuses the light in the nicest way." She chose different color guards for each — a Barn Red guard for the larger pendant and Galvanized for the smaller.
"I added the Red guard because it hangs over a gorgeous needlepoint rug that has the same color in it," Annie notes. "I used the Galvanized finish over the folding table because it has a fresh, clean, utilitarian look that was perfect for that area of the laundry room."
Featuring a handspun aluminum shade, the American-made Sydney LED Pendant is easy to customize with shade size and finish color, plus cord, guard, glass, and LED options.
"I love everything about these lights. They are part of a whole," Annie says. "Every decision and selection we made over the course of this renovation project led us to the end result — a very happy client who is able to enjoy an updated home that is functional and fun."
Photos courtesy of Island Interiors