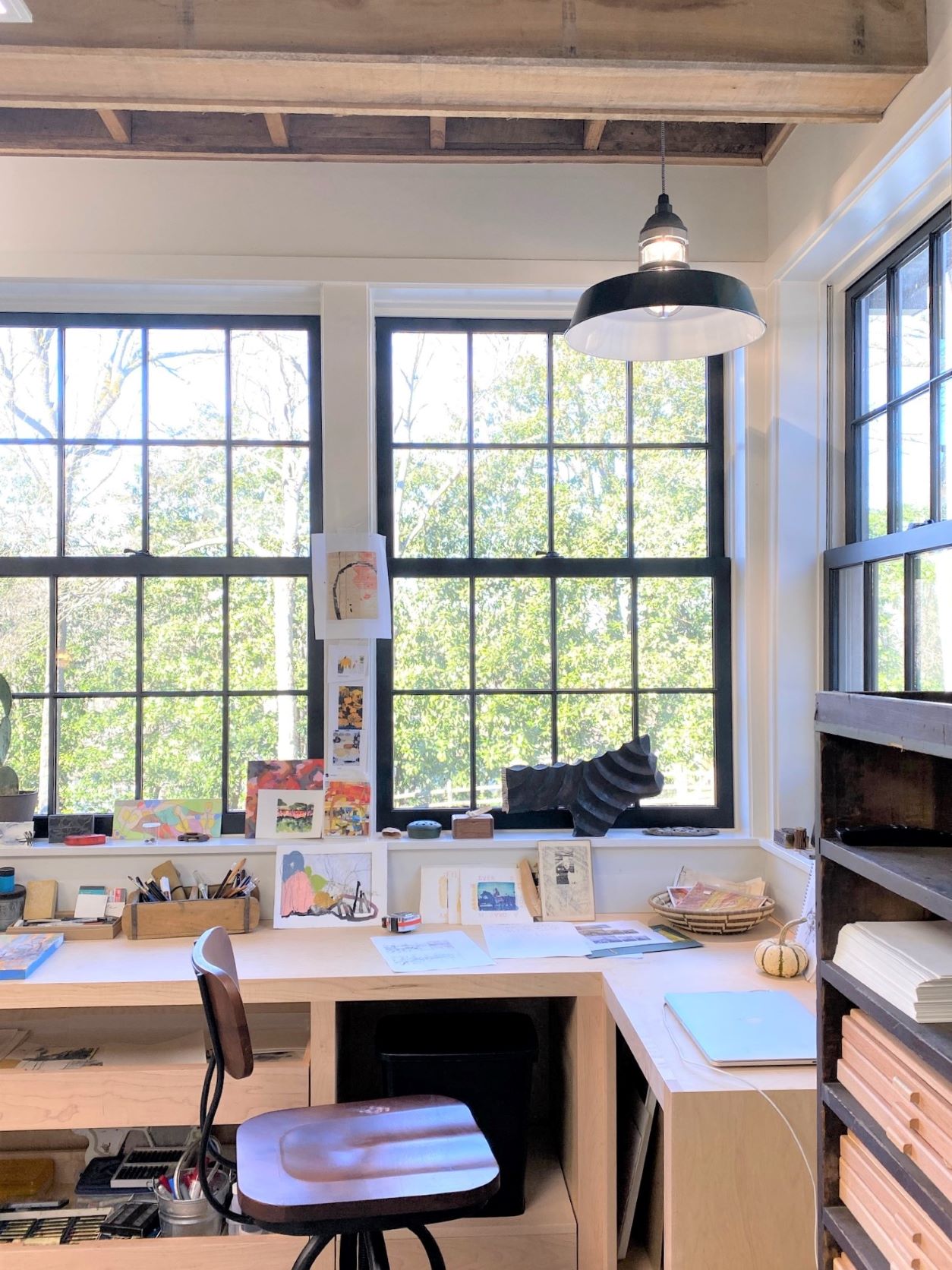 LED Pendant Lights Honor Barn's History in Renovated Art Studio
One of our favorite trends is the conversion of old barns into vibrant new spaces such as homes, workshops, and entertainment venues. If you missed the amazing barn-to-home renovation Brooke tackled in Vermont, be sure to check out those posts here.
Today we're excited to share a new barn project from Liz in Nashville who converted a portion of a horse barn into a working and conditioned art studio.
"I'm a painter and printmaker," Liz explains. "The barn doesn't house horses anymore, but I do have chickens. I wanted to create an industrial and country feeling in the studio with the colors, materials, and fixtures." Liz's architect recommended Barn Light Electric for high-quality, easy-to-customize lighting for the new space. Liz checked out the website and was pleased with the styles and options she discovered.
"I do like the ease with which one can customize these lights," she notes, "and I appreciate the fact that they're made in America." Liz selected four Sydney LED Pendant Lights to bring illumination to her new studio. She customized these fixtures with 18″ shades, a Dark Green powder coat finish, and a black-and-white cloth cord. She also chose a Galvanized guard with clear glass and a 4000K, cool white color temperature.
"I generally don't choose a lot of green in my interiors because it competes with the view," Liz explains. "But these stand on their own and complement the outdoors. The cord is a bonus. I'm a sucker for cloth or woven cords." She adds that the galvanized guard offers the industrial feel she envisioned while the cool white LED temperature is best when she is painting.
"In a previous home, I had very similar fixtures but they were refurbished antiques. These pendants remind me of those." Liz says. "I'm still getting the work space set up, but it's nice to have the lighting all finished."
Photos courtesy of the homeowner