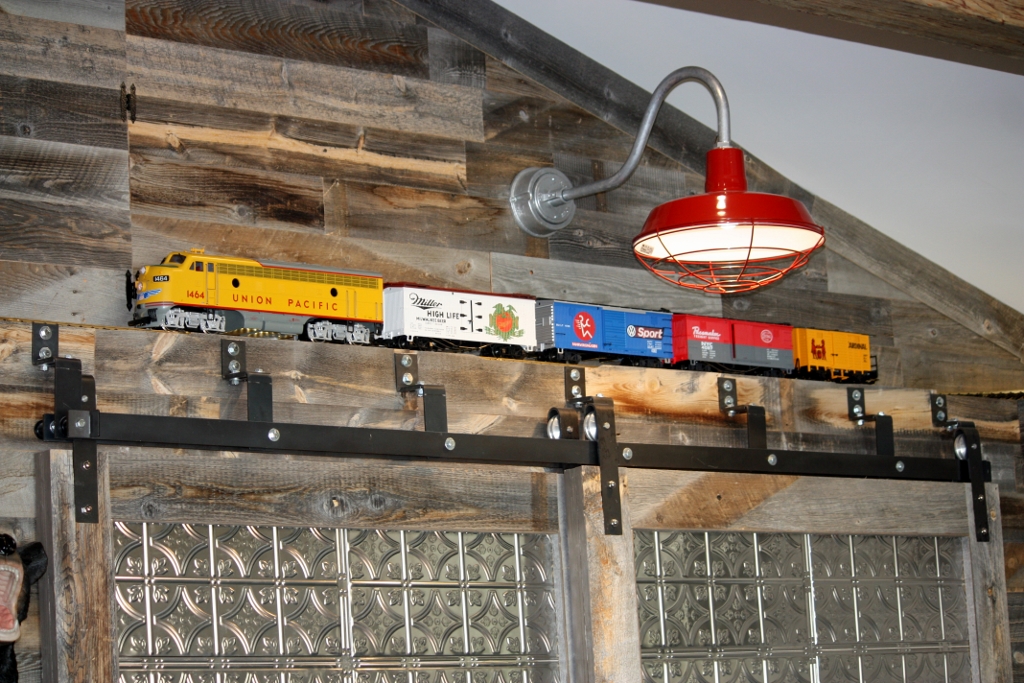 LED Lighting Offers Modern Savings with Rustic Style
Non-stop activity characterizes Stefanie's Menlo Park, California, home where Mom, Dad, two young boys, and a golden retriever spend time playing soccer, basketball, and ping pong. To create even more space for play, the family transformed their basic two-car garage into a "family cave" complete with a wine fridge and a train ledge around the room. Custom-made LED lighting adds a pop of color to the rustic space.
"We designed the family cave to be a fun and eclectic space to entertain friends and family," Stefanie says. The converted garage also includes a double kegerator and a foosball table skinned in ceiling tin and recycled redwood. The train ledge supports a G-scale LGB train and includes a mini replica of the Golden Gate Bridge.
Handcrafted LED lighting brings color into the room with its Barn Red finish. Over the kegerator, an Original™ Warehouse LED Pendant provides plenty of light with a 14″ shade. The wire cage adds a vintage detail along with an extra layer of protection for the integrated LED module. Stefanie customized her new LED lighting with an 850 lumen LED and domed lens.
"We were going for a rustic modern feel and we love the barn light look," Stefanie notes. "But we chose LED lighting because it lasts longer and it's better for the environment." The best of both worlds!
Five complementary Original™ Warehouse LED Gooseneck Lights bring additional illumination to the remodeled garage. These American-made gooseneck lights feature 16″ shades, the same Barn Red finish as the pendant, and G22 gooseneck arms in a Galvanized finish.
Stefanie also added wire cages to these wall lights just in case any stray balls fly through the air.
Outside, an Original™ Stem Mount LED Pendant brings light to the doorway creating an inviting entry to this fun and oft-used space.
"We love that Barn Light Electric fixtures are easy to customize and they're made in the USA," Stefanie says. "Everything in the room is recycled barn wood so they add a splash of color to the space. The lights are amazing!"
Photos courtesy of the homeowner