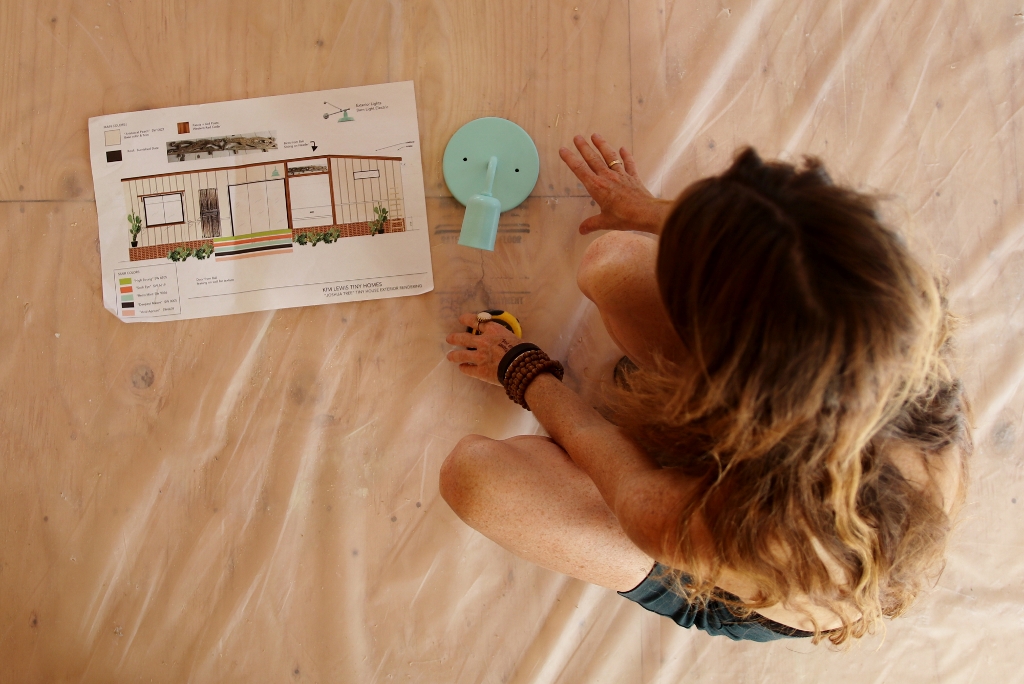 Kim Lewis Tiny Home Debuts in LA with Barn Light Electric
When the tiny home movement first started gaining momentum, some thought \the trend would play out and disappear. The trend was fueled, in part, by the economic downturn in 2007-2008 and consumer interest in lowering the cost of living. Instead of fizzling, however, the trend continues to flourish.
There is much to love about these small spaces in addition to the affordability factor. Tiny homes are more ecologically friendly than a mini-mansion and can serve multiple purposes, such as a place for aging relatives, returning children, a home office, or a guest house.
Our good friend Kim Lewis, the Austin, Texas-based designer who has designed more than 120 homes in 43 states, recently launched Kim Lewis Tiny Homes. This Friday, Kim's latest design will debut at the annual Dwell on Design trade show at the Los Angeles Convention Center. The Joshua Tree model, built by Cavco Industries in Phoenix, measures 560 square feet, a bit larger than a typical tiny home.
"It's really two trailers connected by a porch," Kim says. "One is a bedroom trailer and the other is the living trailer with a kitchen." Designed for eclectic bohemians who love light, open, and airy spaces, Lewis notes the Joshua Tree is a tranquil space infused with desert-inspired décor. That décor will include some of Kim's favorite Barn Light Electric fixtures including two Astro Shallow Bowl Gooseneck Lights that will grace the exterior of the home.
These American-made gooseneck barn lights feature 12″ shades in a Mint finish — one of Kim's favorite colors! Her color inspiration for this tiny home came from the soft hues found in a desert sunset.
Interior design details include white shiplap walls, copper pipe shelving in the kitchen, and this orchid-colored range that Kim was excited to unpack. And yes, that's a retro-style mint green fridge in the background. Did we mention Kim loves color?!
For lighting, Kim made several selections from our Wall Sconce Collection which features space-saving fixtures perfect for tiny homes. Two Downtown Minimalist Sconces in Mint and two Kao Wall Sconces in Delphite Blue add pops of playful color to the walls. The kitchen will also feature a Downtown Minimalist Pendant with a copper cup to complement the copper pipe shelving.
The Dwell on Design show runs from June 23 through June 25 so if you're in the Los Angeles area, stop by and say hello to Kim! The LA Times noted in this article that Kim's Joshua Tree tiny home is one of six reasons you shouldn't miss the show!