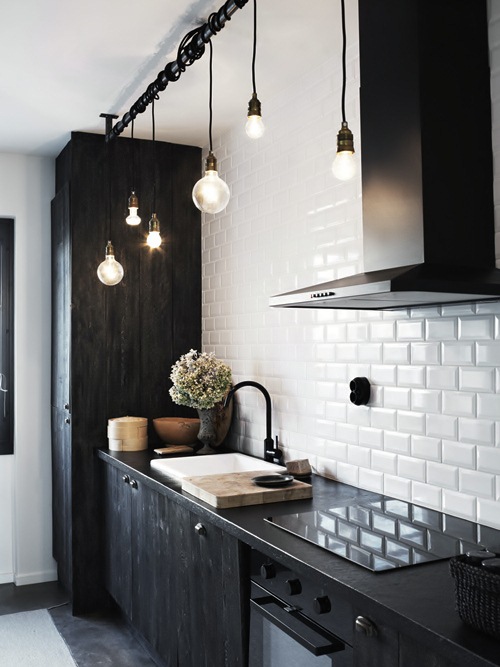 Industrial Pendants Offer Varied Looks with Bulb, Cord Options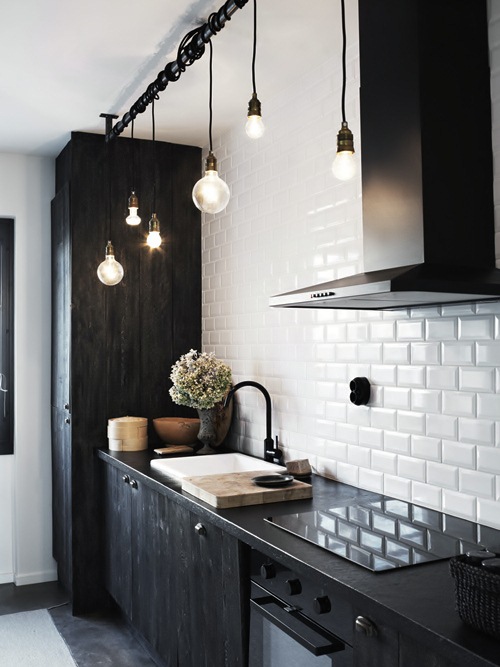 The difference between a truly inviting industrial space and one that simply feels cold and stark often lies in the accoutrements that, taken by themselves, wouldn't seem industrial at all. While we celebrate the elements in the popular industrial décor style — exposed architectural components, raw, unfinished details, and sleek, shiny surfaces — these elements don't offer the warmth or welcoming charm that homeowners and even retailers often desire. At first glance, this kitchen space may seem cold with its black-and-white color scheme. Yet, a closer inspection reveals items that soften the space and make it visually interesting.
The white subway tile offers load of texture which breaks up the wall space and offers a simple, classic look with a nod to history. The basket on the right, even in matching black, provides texture, and the wooden pieces lend a warmth to help balance out the space. Even the bare bulb pendants hanging from above offer visual interest thanks to the cords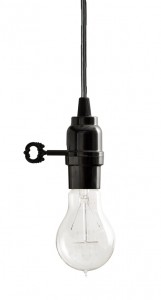 wrapped and hung in various lengths and the variety of bulbs used. You can get the same look with our Barn Light Indy Industrial Pendant, part of our collection of Barn Pendants. The Indy is a reproduction of early industrial lights that offers a turn key on/off switch and a simple drop cord. Choose a standard black or white cord or give your pendant a splash of color with a cotton cord. The American-made Indy works well alone over a reading nook, or hung in pairs or groups, such as these, in the kitchen, over an island, or in any workspace or garage.
Dressing up this bare bulb pendant is simple with the addition of an authentic reproduction Edison Style Light Bulb. We offer several shapes and sizes including spiral style light bulbs, hairpin style, and thread light bulbs. Choose a variety to maximize the vintage drama!
Top photo courtesy of Anna Kern