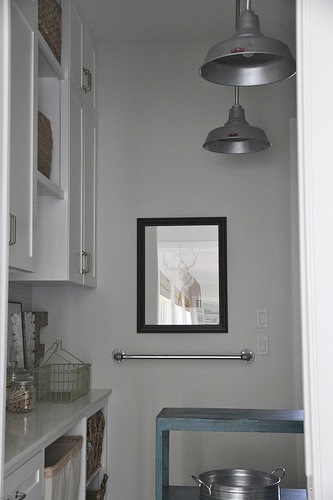 How a Blogger Dresses Up the Laundry Room: A Q&A with Carissa Fox
We follow many blogs here at Barn Light Electric. We call it work but it's actually loads of fun and a wonderful way to spot trends not only in lighting but in all sorts of home design. When we spotted some of our galvanized Union Stem Mount lights in the Brown Eyed Fox blog, we knew we'd found a kindred spirit. Here we talk with Carissa about how she created a laundry room that she actually enjoys being in every day!
Q: Was this a new space or were you remodeling?
A: This was a new home we had the privilege of designing from the ground up. We've been in the home a year and a half now.
Q: Where is your home located?
A: In the suburbs of Houston, Texas.
Q: What was your design direction as you worked in this space? What look were you going for?
A: My goal was to shoot for an overall comfortable, purposeful, clean, and simple feel. Being a detail person, I knew the little things, in the end, would bring it all together.
Q: What was most important to you when you were looking for lights?
A: Though the look of something is what first catches you, I wanted the quality to be able to stand tall too. I wanted something fun, but also wanted it to keep up with time as a classic.
Q: Why did you choose the American-made, 14″ Union Stem Mount Pendant in the galvanized finish for your laundry room?
A: I had quite the time choosing, not because I didn't see anything, but there were just so many wonderful options! The great thing, as I narrowed it down and hemmed and hawed, I knew that whatever fixtures I chose, I couldn't go wrong. I ended up going with galvanized relying on my steady love for its look.
Q: Now that your lights are up, what do you like best about them?
A: I spend lots of time in this room and I'm happy to say the fixtures have brightened event the tallest of laundry piles. I'm glad I went with galvanized as I've really enjoyed the industrial sheen the fixtures bring to the space.
Q: How did you find Barn Light Electric?
A: I'm a searcher and when I have something in mind I'll stop at nothing to track it down. I was lucky enough to find Barn Light Electric through an online search. Peering through the awesome Customer Gallery and product pages sealed the deal!
Photos courtesy of Brown Eyed Fox