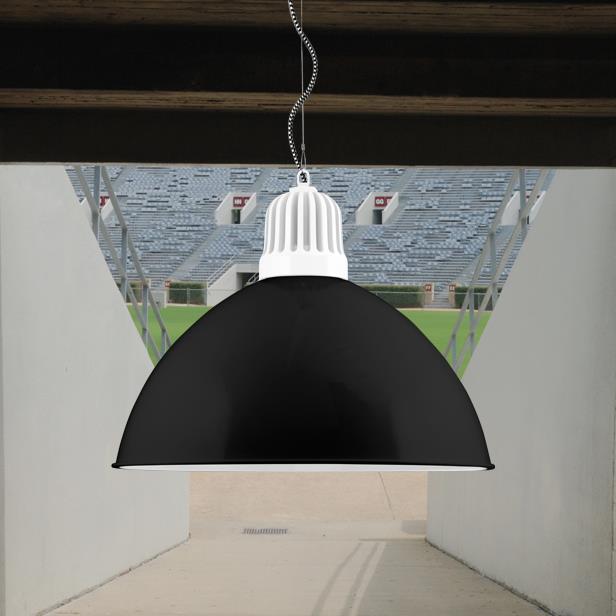 High Lumen LED Collection Expands at Barn Light Electric
Continuing with major league additions to our handcrafted line of LED lighting, Barn Light Electric is excited to announce the latest round in our High Lumen Lineup Collection.
The Kickoff and Overtime feature modern deep-bowl styling designed to brighten large commercial facilities with their brilliant LED illumination. Combining performance, efficiency, and durability into their designs, these newest additions to the Barn Light lineup set a high bar for commercial LED lighting.
Fully integrated LED technology produces an impressive 61,000 hours of light while dramatically reducing a venue's energy demands. And like all of our American-made fixtures, these high lumen LED lights are easy to customize to complement any brand or style.
With inspiration from vintage industrial lights, both the Kickoff and the Overtime are meticulously crafted. The Overtime shade is available in five sizes and is hand spun from copper, brass, or aluminum. Aluminum shades are finished with one of more than two dozen powder coat colors.
The Kickoff is spun from commercial grade steel and finished with porcelain enamel glass. These shades are baked at 1,500 degrees sealing the glass to the shades which creates a high-gloss finish that will never fade. These rugged lights are particularly suitable for exterior installations and handle high-traffic commercial spaces with ease.
Both the Overtime and Kickoff are offered in multiple mountings including pendant, gooseneck, chain hung, stem mount, and a two-light stem mount pendant. Hints of industrial character are supplied by the water-tight glass guard while the heat sink keeps the fixture cool and protects the integrated LED module.
Customizing options for the LED include a range of lumens up to 5,200 and multiple color temperatures to ensure that every space obtains the perfect brightness and tone of light.
These deep-bowl shades are perfectly suited for restaurants, warehouses, amphitheaters, and stadiums as well as hotels and office buildings. With efficiency up to 90% typical, the Overtime and Kickoff offer significant reductions in electricity consumption and comply with even the strictest energy laws.