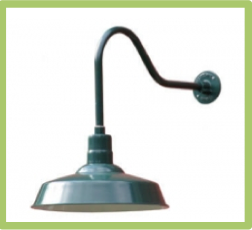 Green Gooseneck Lighting: Erin Go Braugh!
Saint Patrick's Day is upon us, so that means green everything! As always, you can expect to see shamrocks and the occasional leprechaun searching for his pot of gold. Even if you don't live in the rolling hills of Ireland, you can bring the spirit of the old country home – and we don't mean living off of a diet of mutton and potatoes. Check out our guide below to essential green gooseneck lighting!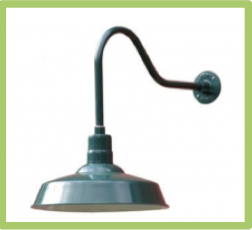 The Barn Light Rodeo Warehouse Shade is a popular gooseneck barn light. Shown here in a Dark Green finish and on an HL-H gooseneck arm, this gooseneck light is ideal for mounting over a garage door or business entrance. For those of you that live in one of the many Dark Sky Compliant states, the Rodeo Warehouse Shade fits in with the necessary guidelines, projecting all of the light downwards to the ground. Dark Green isn't the only green finish available for this barn light – check out French Green, Ivy, and even Mallard Green.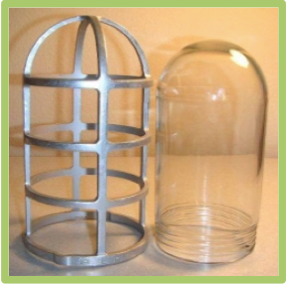 Now, green doesn't necessarily have to mean color. Green has become a term that is also used in regards to energy efficiency or sustainability when it comes to building and energy use. We suggest adding a Compact Fluorescent Light Bulb to your barn light to really UP the green factor! CFL bulbs provide the same amount of light as a standard incandescent light bulb would, however, they use about one third as much energy and can last up to 15 times longer! If you're not fully on board with the green bandwagon, it's likely that you enjoy saving money. Once you do the math, it's easy to see why CFL bulbs are a great option!
Compact fluorescent bulbs aren't always the prettiest things to look at, as they typically have a spiral or odd shape! For this, we suggest adding on an optional cast guard and jelly jar glass to your gooseneck light to conceal those bizarre bulbs. The cast guard and glass will even act as a shield to the bulb, protecting it from anything that could potentially break it – meaning those pesky leprechauns! Sláinte!