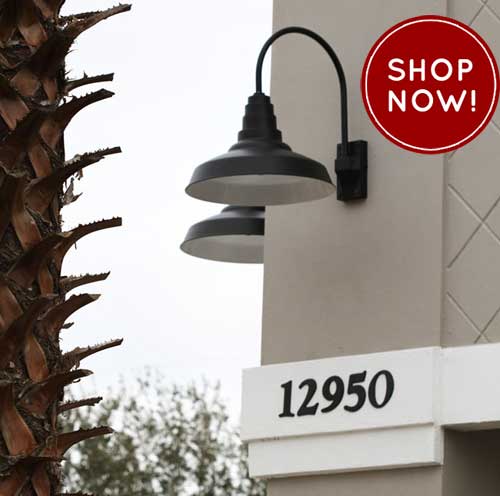 Gooseneck Warehouse Shades Highlight a Restaurant's Exterior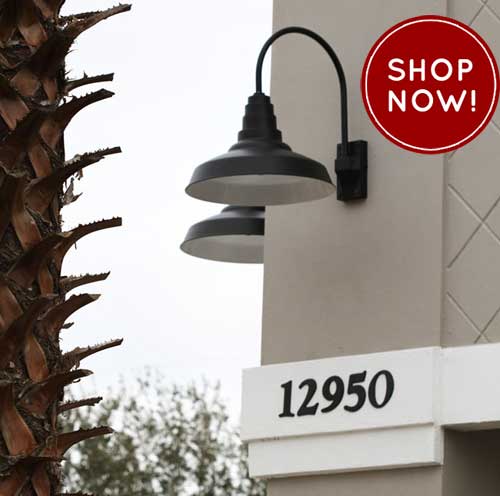 Restaurant and store owners know the incredible value of a unique and lively atmosphere to greet their customers. To accent their outdoor signs and walls, many owners choose to install Gooseneck Barn Lights or RLM warehouse shades. Gooseneck lighting fixtures provide a unique accent and a concentrated beam of light to showcase signs, menus, murals, or addresses.
Larger gooseneck barn lamps include our Brahma Warehouse Shade. They are offered in two of our largest shade sizes: 24 and 27 inches. Each of these will provide a broad span of light coverage when placed on large commercial buildings, malls or apartment complexes. The Brahma is also durable enough for agricultural and industrial settings – and with a wide variety of mounting options available, it can be customized to cover all your lighting needs. Plus, with well over 30 powder coat finish options, you can select a color to blend in, or stand out among the rest! Other unique features that are offered for this warehouse shade is its variety of gooseneck arms available. Each can perfectly complement the shade's large diameter, and with the ability to outfit this light with a cast guard and jelly jar glass, your building is sure to stand out from the rest.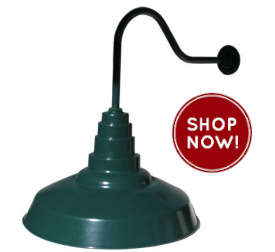 Whether your main goal is to create an abundance of adequate storefront lighting, barn lighting, or interior commercial lighting, The Brahma provides a broad coverage of light due to its robust 24″ or 27″ size. Regardless of where it's installed on the exterior or interior of your establishment, The Brahma's unique mix of vintage functional design and modern elegant appearance surely will leave a memorable impression with everyone. Even when these barn light fixtures aren't illuminated, they add an aesthetically pleasing feature to your establishment's exterior.
For more information on The Brahma Warehouse Shade, see our additional blog post titled: RLM Gooseneck Lighting For Residential and Commerical Projects.