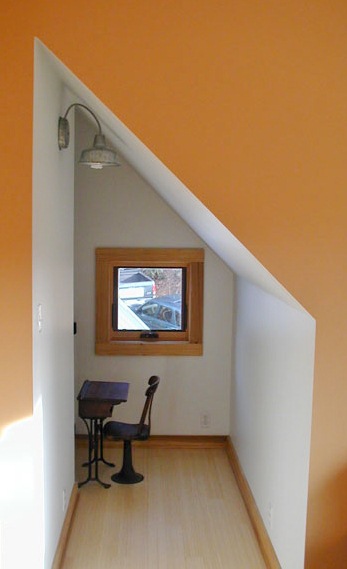 Gooseneck Sconce Tucks into Small Study Space with Ease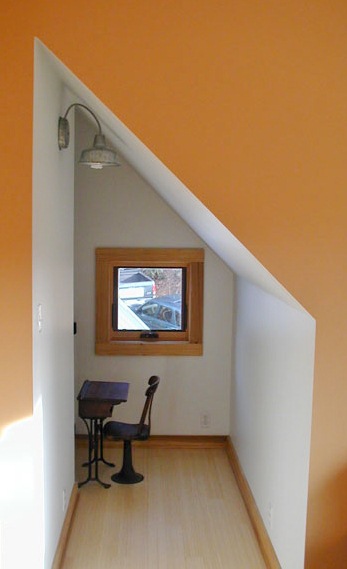 A wise woman once told me as she was building her house, tell the contractor to take advantage of every single square foot especially behind the walls. If you see a space, put a door on it, and you have instant storage. Even small spaces that would seem useless can become invaluable for storage or, as seen in this photo, a terrific study space. This small nook could have been an interesting closet but instead the builder created a perfectly cozy space complete with some industrial decor, a window for daydreaming, and a handsome wall sconce for lighting. This sweet little light is much like our Barn Light Arlington Sconce, part of our collection of Barn Wall Sconces. Barn wall sconces bring out the best of the classic warehouse shade, a fixture first found back in the 1930s and 40s on farms and in factories. A smaller version than most other sconces, these barn fixtures tuck perfectly into smaller rooms or spaces bringing light where you need it.
The Arlington is handmade by our craftsmen right here in America from the finest materials. Starting at less than $100, this affordable fixture would be right at home in a den, kid's bedroom, hallway, or bath. This sconce exhibits classic RLM styling with a decorative wall plate and a slender gooseneck arm. With two sizes to choose from and eight traditional finish colors including beautiful barn red, you can create a fixture that will complement any design style.
Looking for the perfect sconce for outside your home? Check out the Bond Small Sconce, another entry in our Barn Wall Sconce line. This light has a square wall plate with decorative arms and a sleek shade. Finished in either Textured Rustic Bronze or Waxed Natural Copper, this fixture would be a gracious welcome flanking your front door.
Top photo courtesy of Earth Tone Builders