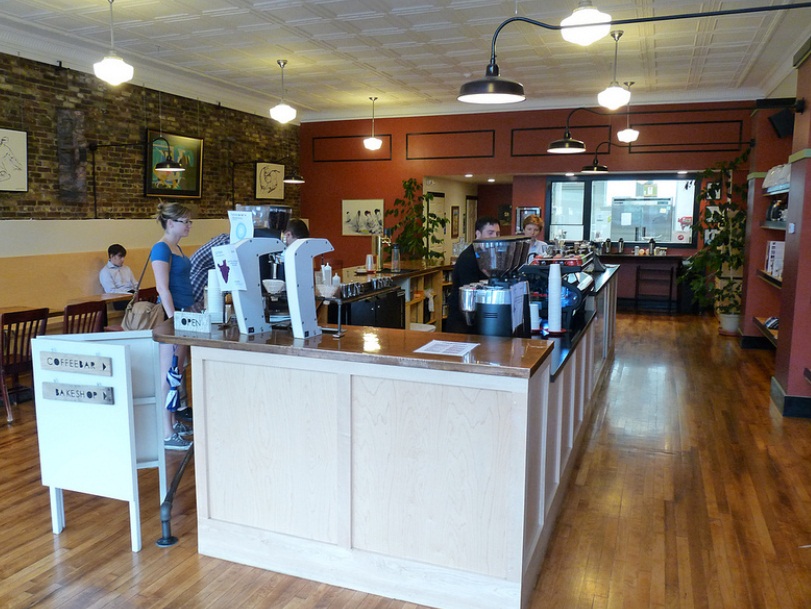 Gooseneck Lighting, Schoolhouse Pendants for Java Joint
One thing is for certain — New Englanders love their coffee! Two weeks ago, on the main blog, we explored a coffee shop in Arlington, Massachusetts, all lit up by beautiful warehouse shades. Today, we travel closer in towards Boston to historic Cambridge where we find the Dwelltime Coffee Bar has also gone all vintage with their commercial lighting scheme. This inviting venue certainly makes you want to belly up to the coffee bar, then relax with a good e-book, and enjoy the surroundings!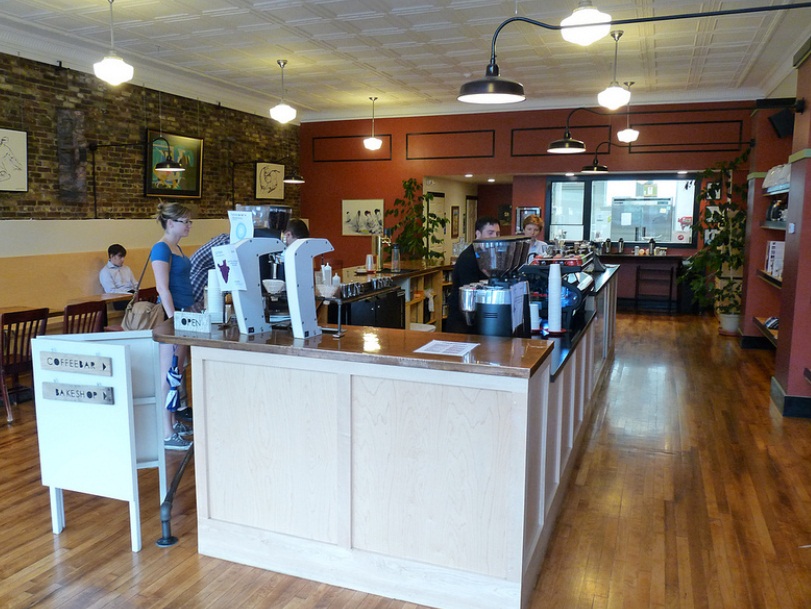 The gooseneck lights to the right are much like our Universal Gooseneck Light on a very long, custom gooseneck arm. This illustrates just how adaptable these gooseneck lights can be with the appropriate arm attached. Even with the serving space situated as an island in the middle of the shop, the gooseneck lights can still reach out and light up lattés! The Universal Gooseneck Light comes in four shade sizes from 10″ to 16″ wide. A dozen gorgeous finish colors are available for this fixture from traditional Black and White to classic Barn Red or Buttery Yellow. More than two dozen gooseneck arms are available for this light, but if you don't see what you need, be sure to chat with one of our friendly and knowledgeable sales staff who can help create a custom arm for you. Like many of our lights, the Universal can be customized with a wire cage or cast guard and glass if you want a truly distinctive look.
The second interesting fixture in this photo are the Schoolhouse Pendants hanging throughout the shop. Long before fluorescent fixtures came into fashion, you would find these lights not only in schoolhouses but also in diners, libraries, and government offices. The Schoolhouse Pendant, part of our collection of quality Discount Warehouse Lighting, comes in two sizes and either a Rubbed Bronze or Chrome Finish. No matter which you choose, your pendant will lend your space a unique vintage style!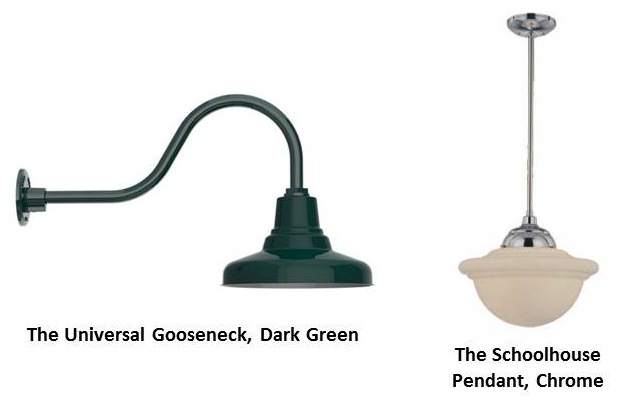 Top photo courtesy of Dwelltime Coffee Bar