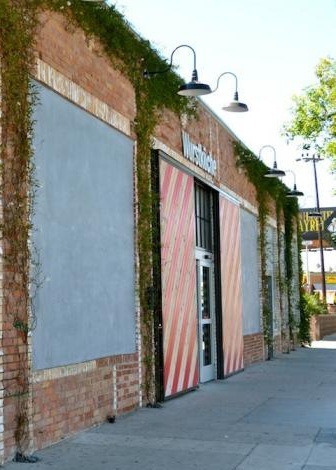 Gooseneck Lighting Affordable, Flexible for Commercial Lighting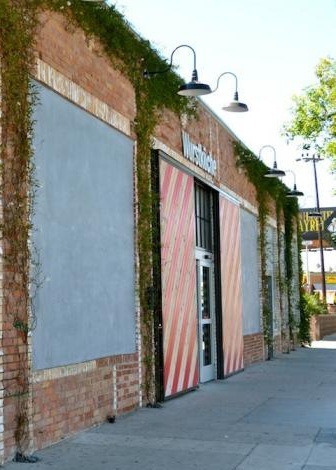 If you've ever built or remodeled a home, you know full well how quirky it can be to get the lighting just right — to illuminate a room, to set a mood, and to be functional while still complementing the home's overall design. For commercial lighting, the task gets even more complicated taking into consideration the type of building, how many customers will be accessing the space, what types of activities take place inside and outside the building, and what kind of work the employees must do. But even as the list of questions grows, the list of options grows as well. Commercial lighting doesn't have to mean boring fluorescent tubes or cheap, big-box store lights that may save initial dollars but never hold up in high traffic areas.
This commercial building located in Venice Beach outside LA is bedecked with some classic lights that beckon people to the sliding doors of a new German restaurant that serves bratwurst and beer in an industrial style setting. The aged brick facade is softened by climbing vines and plenty of light is cast onto the sidewalk and entrance by the gooseneck lights that look very much like our Rodeo Warehouse Gooseneck Light. This hand crafted, American made light is ideal for business owners that need plenty of light on their building after dark but don't want to sacrifice style for functionality.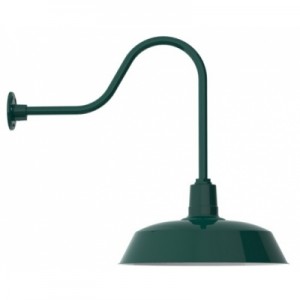 This fixture is a larger version of The Original Gooseneck Light and boasts a traditional RLM warehouse shade design. The Rodeo comes in two large shade sizes, perfect for commercial lighting needs, and a dozen gorgeous and durable powdercoat finish colors. Customize your gooseneck with a wire cage or cast guard and glass for a vintage look. The cast guard can be finished to match your shade or choose a contrasting color for even more visual interest.
Top photo courtesy of Remodelista