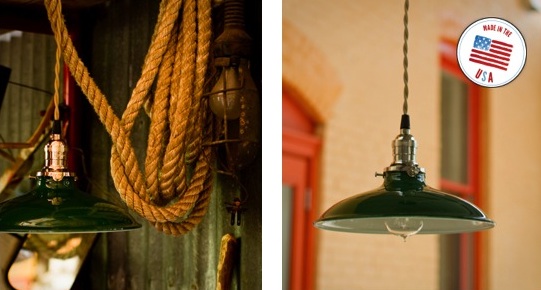 Ivanhoe® Sinclair Porcelain Enamel Pendant
Barn Light Electric® is pleased to announce the launch of an entirely new line of lighting – introducing the exclusive Barn Light Electric Porcelain Enamel Shades. For over 50 years, porcelain enamel production was nonexistent. Staying true to the passion for authentic, American-made lighting, Barn Light Electric® guarantees each porcelain enamel shade is still hand spun in the U.S.A – just as they were years ago.

The first series to be introduced by Barn Light Electric® is the Ivanhoe® Industrial Pendant. Appropriately named, this industrial 1930's style pendant that was formerly used around gas stations, workshops, and factories. Because of their durability and extreme popularity, several companies began manufacturing porcelain fixtures. However, due to strict EPA regulations on porcelain lighting, most manufacturers went out of business or were shut down after the 1960's.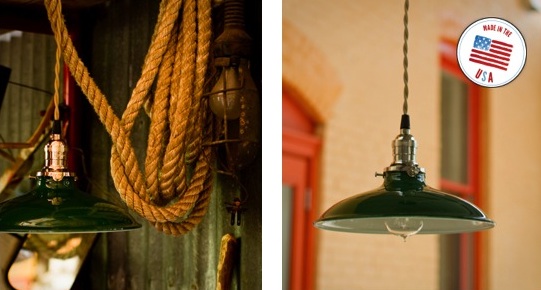 Today, very few fixtures remain in good to mint condition; those that do remain can bear a hefty vintage price tag. With our line of porcelain enamel shades, these highly sought after pieces can now be brought into your home at a much more affordable price. Perfect for accenting above tables, bars, or counter tops, the Ivanhoe® Sinclair comes ready to install and ready to withstand years of use, just like the originals.
Each 10-inch shade is available in your choice of multiple color selections including Vintage Green, White, Yellow, Black, or Cobalt Blue. Adorning the tops of each shade is one of two socket options – Solid Brass or a Nickel finish and an authentic on/off turn key paddle switch or knob. Stemming from each socket is your choice of cord options including cotton and cotton twist cords. To complete the vintage look, a Nostalgic Edison Style light bulb can be included with each order of an Ivanhoe® Industrial Pendant.