Glass Shade Pendants Add Vintage Touch to Porch Table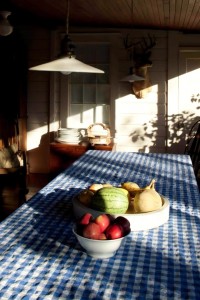 When the owner of this 1903 industrial farmhouse in Pope Valley, California purchased the property, he knew there would be much renovating and remodeling to be done. As an artist, he paid  "painstaking attention to detail" during the renovations, and has turned his rustic farmhouse into not only a beautiful home but an artist studio with live-in space for fellow artists as well. Out on the porch, where a long table occupies the heart of the porch, pendants from the owner's collection of flat milk glass shades hang beautifully from above. It's just one example of a large number of vintage touches found throughout the house and studio.
Milk glass was first made in Venice in the 16th century and was actually created in a variety of colors including blue, pink, yellow, and even black. The milky white opaque version was coined opal glass in the 19th century when this style of glass became quite fashionable especially among the elite. It was made into lamps and other lighting fixtures, vases, and dinnerware and was extremely popular in Europe and in particular in France towards the end of the 19th century. Today milk glass is highly valued among its devoted following of collectors.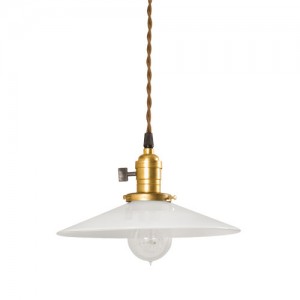 To get this look, check out Vintage Barn Lighting's collection of milk glass pendants. Once popular in Victorian style homes, our Flared Milk Glass Shade looks very similar to this one and would add a true vintage touch to your space. The cotton twist cord comes in several colors to fit your design scheme and in lengths from 24 inches to 60 inches long. The socket and ceiling canopy finish can be customized in either an unfinished brass or a polished nickel. To complete the authentic look of your fixture, be sure to add a nostalgic Edison style light bulb to your order!
Top photo by Douglas Sterling