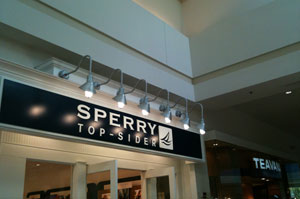 Galvanized Metal Gooseneck Sign Lights at Sperry Top-Sider Store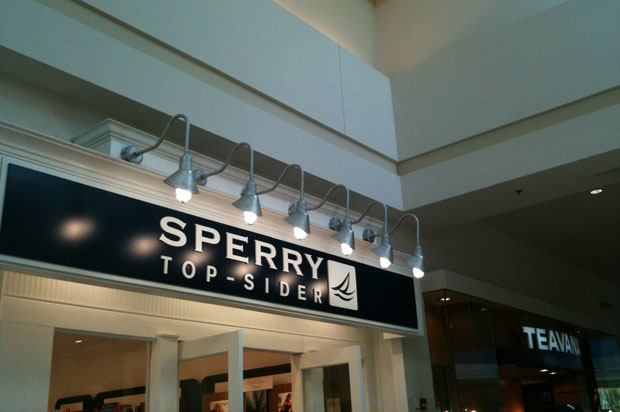 Smart managers and store owners know the value of attention to detail when it's applied to every aspect of their stores, including the lighting. Gooseneck lights help stores stand out from the competition in crowded retail areas – like shopping malls or outlet shopping centers.
A perfect example is the Sperry Top-Sider store in the Florida Mall (shown above). It features six galvanized metal gooseneck sign lights that highlight the sign above the front entrance. Compared to the neighboring store on the right, Sperry Top-Sider strikes the perfect balance of a strong presence and a welcoming appearance. Barn Light Electric offers similar lighting styles to the ones shown above in our Sign Lighting section online.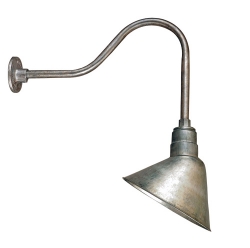 The Angle Shade Gooseneck Sign Light directs a focused beam of light to accent signage, artwork or any surface worthy of showcasing. The Angle Shade starts at $204.00 each, while a smaller, mini angle shade is available for $154.00. Both versions are can be customized from a wide variety of finishes to match the colors of your home or business. Metal cast guard units are available as an optional add-on to protect the light bulb. Notice that these trendy accessories were added onto the Sperry Top-Sider store we feature today, and can be seen by guests entering or exiting the store.
This protective cast guard feature is commonly seen on light fixtures found around boats, docks and shipyards. The gooseneck lights not only give Sperry Top-Sider a brighter sign that's easier to read, but they also re-enforce the store's nautical branding by adding their galvanized metal finish to the navy blue sign with white lettering. With a similar arrangement, you can enhance the entryway to your own store no matter what your business offers.
Barn Light Electric's selection of sign lights boasts a variety of sizes, styles and finishes to showcase your office building or storefront. For small to medium sized areas, our handcrafted Emblem Shades offer a very classic style in 8″ or 16″ shades. PAR Sign Lights are available for stores with a more a contemporary look or for areas that need a small amount of directed lighting. Perfect placement for these may be restaurants or art galleries.