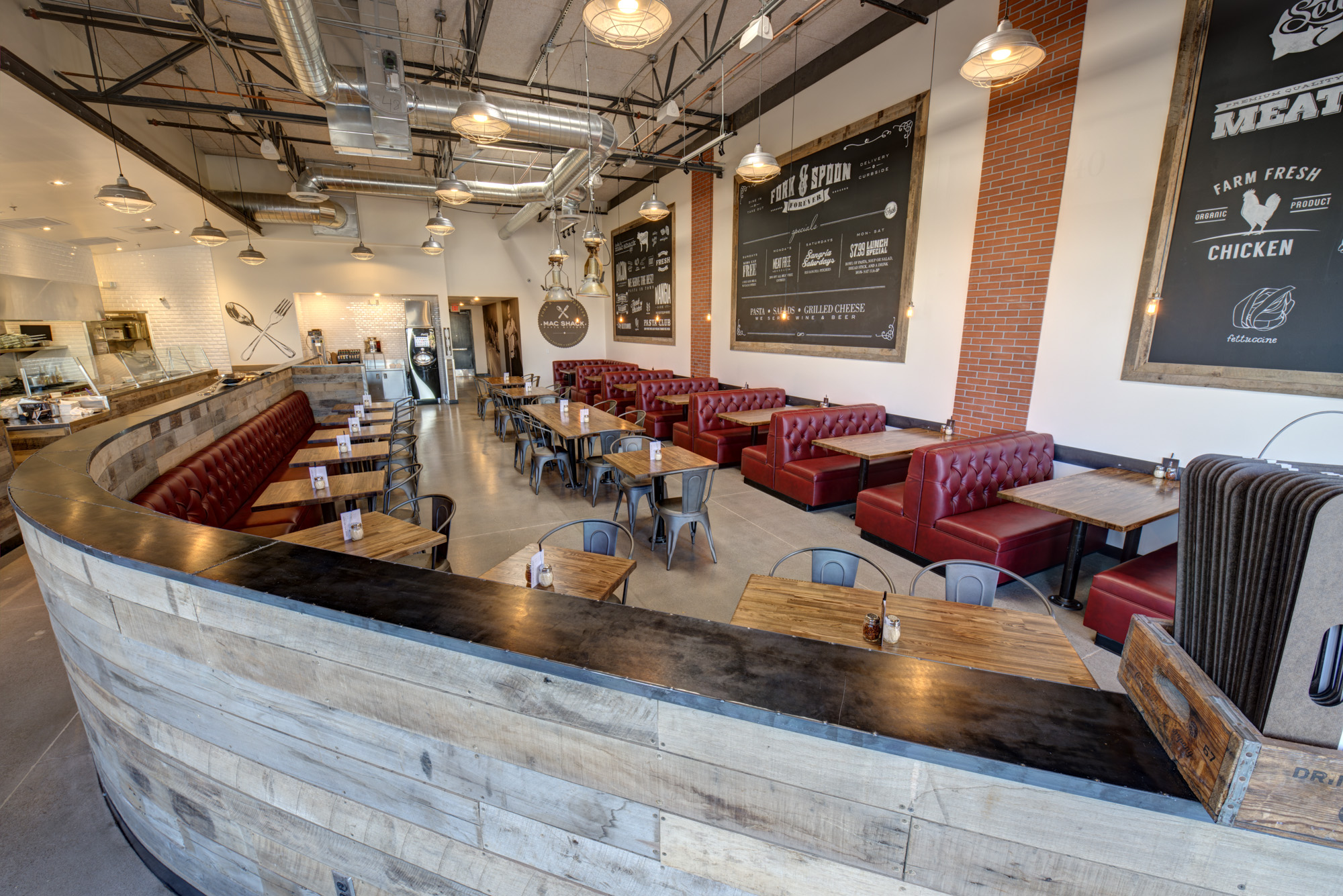 Galvanized Barn Lights Bring Southern Charm, Style to Vegas Eatery
Pasta is probably not the first thing that pops into your mind when you think of Las Vegas. Bright lights, dancing girls, and poker for sure…but pasta?
Next time you're in Sin City, check out a new eatery that is fast becoming a local favorite thanks to amazing food and a warm industrial atmosphere featuring reclaimed materials and classic, American made barn lighting! MacShack is a fast service pasta restaurant where guests create their own dishes choosing from more than two dozen pastas, sauces, and a variety of fresh ingredients. The second and newest location recently opened where some southern charm was incorporated into the design of the new space.
"This is a fast casual dining experience," says Christopher Donohue, director of facilities for Dapper Development. "We wanted the look to be clean and fresh with a touch of warmth from recycled pieces and elements of simpler times." Working with a designer who was familiar with Barn Light Electric, Christopher chose the Bomber Pendant Light for the main dining area.
"This is a large open space and while we wanted to capitalize on this, the pendants help create an intimate feeling," Christopher notes. "We love their classic styling." The 17″ Bomber Pendants are American made and customized with a Galvanized finish, standard black cord, and a wire cage for an industrial touch.
Outside, the new facade and signage are highlighted by classic gooseneck angle shade lights that provide not only well-directed light onto the building but are an integral part of the design that is MacShack. The exterior sign lights are customized with a 12″ shade, Galvanized finish and a 15″ gooseneck arm.
"The restaurant is located in one of the most high caliber shopping centers for the residents of Las Vegas," Christopher says. "We need to be sure everyone knows we are here. The goosenecks definitely help give the signage the necessary pop in this shopping center."
Photos courtesy of Dapper Development